Do you know what Funnysite123.com is?
Despite what Funnysite123.com may sound like, the tool is not so fun in reality as it might expose your system to threats. While testing the application, our researchers discovered that the search engine could load not only results matching the keywords but also suspicious advertisements from the software's third-party associates. As it looks like, some of the displayed ads could be potentially dangerous since they might originate from malicious web pages. It means by clicking such content, you could endanger your computer. Without a doubt, this is something all users who care about their system's security would want to avoid. If you do not want to take any chances with Funnysite123.com either, we recommend reading more about the threat and then use the removal guide available below the text to erase it at once.
To begin with, users should know that Funnysite123.com is classified as a browser hijacker. It falls under this category because of its specific working manner. To be more precise, our specialists noticed the application's ability to modify particular browser settings, for example, start page, default search provider, or new tab page. If the threat changes all of these settings, the browser should load Funnysite123.com when it is launched, when you enter a keyword into the search box, or when you open a new tab. We believe these changes are made to simply promote the search engine because through it the software's creators can show you third-party advertising and generate advertising revenue from your clicks.
Unfortunately, while clicking the ads might be beneficial to the browser hijacker's developers, it could cause you trouble. As we said, in the beginning, the shown advertisements may come from web pages that are not reviewed by anyone. In other words, there are no guarantees the displayed ads cannot come from malicious web pages. If you would encounter such content and click it, you could be redirected to websites offering installers of other browser hijackers, adware, potentially unwanted, programs, suspicious toolbars, and other threats. More harmful sites could even contain malicious applications like Trojans, viruses, ransomware, etc. What's more, users might land on sites with questionable policies on privacy issues too, for example, such sites may try to gather your private data like email address, telephone number, name, location, and so on.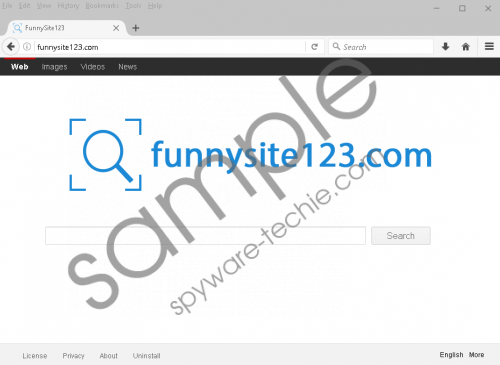 Funnysite123.com screenshot
Scroll down for full removal instructions
Clearly, using the search engine could be risky, and we would advise you to avoid treats like Funnysite123.com in the future. However, to avoid similar browser hijackers, it is important to know how they are distributed. Often these applications are spread through bundled software installers on unreliable file sharing web pages. Thus, before downloading any setup file, you should make sure the application is safe to use and check if a reputable company published it. Then, it would be wise to look for its installer on the software's official site or other legitimate distribution channels. Plus, to increase the system's safety, it is recommended to keep a reliable security tool too. It can warn you about malicious installers or unreliable programs and maintain the system safe.
Nonetheless, if Funnysite123.com managed to settle on the browser, we can help you get rid of it with our manual removal guide placed below this text. Simply choose the correct steps for your browser (the application works on Google Chrome, Mozilla Firefox, and Internet Explorer) and complete them to erase the hijacker manually. The last part of the instructions explains how to check the Target line; these steps are for any browser. There is also a second way to eliminate the application. Users could acquire a reputable antimalware tool, scan their systems with it and delete the unreliable search engine together with other possible threats. If you have more questions related to the browser hijacker, do not forget you can contact us through social media or leave a message here.
Delete Funnysite123.com
Internet Explorer
Press Alt+X.
Select Internet Options.
Go to the Advanced tab.
Click Reset and mark Delete personal settings.
Select Reset again and press Close to finish.
Mozilla Firefox
Find the Help icon and click it.
Pick Troubleshooting information.
Then select Refresh Firefox.
Press Refresh Firefox again and click Finish.
Google Chrome
Press Alt+F and go to Settings.
Slide below until you can select the Show advanced settings option.
Scroll below again and select Reset Settings.
Click Reset.
Erase suspicious browser extensions
Internet Explorer
Press ALT+X.
Choose Manage add-ons.
Press Toolbars and extensions.
Find doubtful extensions and remove them.
Mozilla Firefox
Press CTRL+SHIFT+A.
Select Extensions.
Look for suspicious extensions.
Select them and click Remove.
Google Chrome
Press ALT+F.
Click Settings and select More tools.
Pick Extensions and identify unreliable extensions.
Select them and click the recycle bin button.
Choose Remove.
Check hijacked browser's Target line
Find the hijacked browser's icon.
Right-click it and press Properties.
Select the Shortcut tab.
Find the Target line (e.g. "C:\Program Files (x86)\Google\Chrome\Application\chrome.exe").
Check if the threat placed its link at the end of the Target line (e.g. "C:\Program Files (x86)\Google\Chrome\Application\chrome.exe" funnysite123.com).
Delete the browser hijacker's link (funnysite123.com) and press OK.
In non-techie terms:
It looks like Funnysite123.com is an unreliable search engine since while it might show you results matching the used keyword, it can also show you potentially dangerous advertisements from the third party. To avoid such content, we advise users to simply eliminate the browser hijacker. Once you delete the threat with the removal guide located above or with a legitimate antimalware tool, you could easily replace the settings that may have been modified by this unreliable search engine and acquire a more trustworthy search tool, for example, google.com, yahoo.com, etc.