Do you know what Funnypage123.com is?
Funnypage123.com is a browser hijacker that will modify your browser settings. This security threat is compatible with all the main browsers out there, so you could easily get affected by this program no matter which program you use. In this description, you will have the manual removal guidelines and more information about Funnypage123.com. Technically, this is a rather generic browser hijacker, but that does not mean you should ignore it and allow it to remain on your computer. Browser hijackers can easily lead to further infections, and you most certainly cannot afford that.
We also think that some users would leave this intruder be because it looks very much like a decent search provider. This is actually the reason browser hijackers are so prevalent: sometimes it is hard to tell them apart from the legitimate search engines. However, Funnypage123.com can be easily found out if you were to run a web search through it. If you do that, you will see at once that this domain uses a custom version of the Google search engine. In other words, it does not provide users with a unique search service. What's more, it modifies the search results, pushing upwards links that are related to your likes and preferences.
How does the browser hijacker know that? Funnypage123.com makes use tracking cookies to monitor your online activity. It does not mean that the hijacker can log your keystrokes, stealing your login information and passwords; it is too simple of a program to do that. Instead, the application figures out which sites you visit the most often, and what you usually look for online. This kind of information can be traced back with cookies and web beacons. Afterwards, the hijacker will use the collected information to generate custom content that might seem interesting to you. When you see something that you may find attractive, you might be willing to interact with that content, and this is exactly what any browser hijacker wants.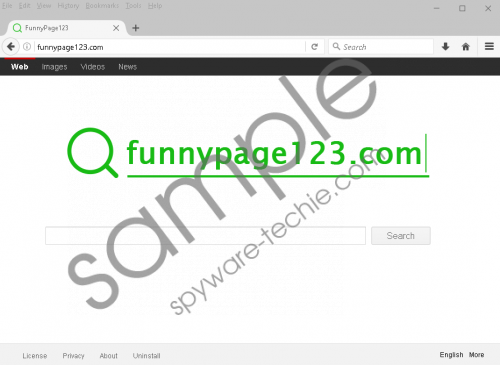 Funnypage123.com screenshot
Scroll down for full removal instructions
The main reason Funnypage123.com enters your computer is money. Of course, as we have established already, the program cannot steal your financial information. But every single time you click on a link or a piece of content promoted by this browser hijacker, you help it generate a financial profit. Usually, browser hijackers employ the pay-per-click system to make money. The system is not illegal, but it could be exploited by cyber criminals to redirect users to dangerous websites. This is the main security issue associated with Funnypage123.com and similar programs.
The problem is that this browser hijacker does not review the content it promotes. Therefore, cyber criminals can easily embed their links into the search results this hijacker displays. Of course, this turn of events is not too common, but you should not take chances.
What's more, you have to consider the possibility that there might be more unwanted applications installed on your computer. Why? Because Funnypage123.com usually spreads bundled with third-party installers. And third-party installers carry more than just one application within. It would be possible to avoid that if users refrained from downloading freeware from unfamiliar websites. Reading the steps in the installation wizard could also prevent unwanted programs from entering your system. Unfortunately, sometimes freeware apps look a lot more attractive than official programs at their homepages, so it is very likely that browser hijackers will continue infecting multiple computers worldwide.
Not to mention that Funnypage123.com comes from a big family of similar programs, called ELEX. This family contains such security threats as Youndoo.com, amisites.com, trotux.com, and others. We can also assume that quite a lot of other programs will be developed in the future, and so users have to be careful about what websites they enter and what programs they download.
To remove Funnypage123.com, you have to reset your browser settings to default and modify the Target shortcut. You should also consider scanning your computer with the SpyHunter free scanner, as you definitely need to locate and terminate other potential threats. As mentioned, there is a very good chance that this browser hijacker entered your system in a software bundle.
Once all the potential threats are removed, acquire a legitimate antispyware tool that will safeguard your computer from other unwanted applications. Although you must not forget that your web browsing habits also play an important part in ensuring your system's safety.
How to Remove Funnypage123.com
Change Target Settings
Right-click your browser's shortcut.
Select Properties on the drop-down menu.
Open the Shortcut tab.
Locate the Target line.
Delete everything that is OUTSIDE of the quote marks.
Click OK to save changes.
Internet Explorer
Press Alt+T and click Internet options.
Open the Advanced tab and press Reset.
Select Delete personal settings and click Reset.
Press Close.
Firefox
Press Alt+H and click Troubleshooting information.
Click the Refresh Firefox button at the top right of the new tab.
Press Refresh Firefox again and click Finish.
Chrome
Press Alt+F and go to Settings.
Scroll down and click Show advanced settings.
Scroll down again and press the Reset settings button.
Press Reset to confirm.
In non-techie terms:
Funnypage123.com will be set as your homepage, and it will spy on you. This domain belongs to a browser hijacker that entered your computer to make some easy money. If you do not remove Funnypage123.com at once, you will soon be flooded with annoying, unnecessary, and potentially harmful third-party content. Do not tolerate this intruder and do everything you can to clean your system, and make it safe again.