Do you know what Funfeedr is?
Funfeedr is a browser extension that is created for Mozilla Firefox. This application does not work on any other browser. It is highly unlikely that Funfeedr was installed on your computer without your knowledge. Even if you do not remember adding this extension to your browser, it would still mean that you accidentally installed the application with additional software. Although this extension cannot infect you with malware per se; if you feel like removing Funfeedr from your browser, you can do it following the instructions below this description. For any further information on your system's security levels, you can always run a full PC scan.
One of the reasons we cannot classify Funfeedr as an actual threat is that the extension has an official website. You can access it via funfeedr.com. The website looks user-friendly, and it also has a working download button. If you open the website with Mozilla Firefox and click the Add to Browser button, the extension will be added to your browser. If you happen to come across this website with any other browser, clicking the button would result in downloading an .xpi file. This is a Mozilla Firefox extension file, and it works only on the said browser. Thus, you will not need to deal with Funfeedr if you work with some other browser.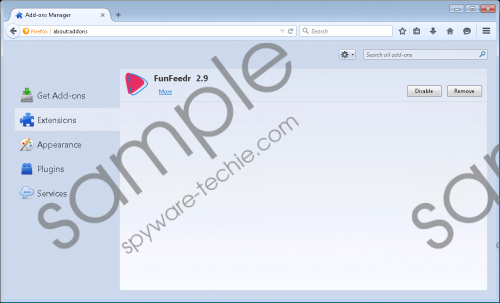 Funfeedr screenshot
Scroll down for full removal instructions
Judging by the information provided on the main website, Funfeedr is there to give you quick access to the most exciting web content. Supposedly, the extension should let you "enjoy the hottest content on the web directly from your browser." It seems that the application would provide you with some additional information on the entertainment business, but here comes the question how Funfeedr knows what kind of content it is supposed to offer you. The answer is: tracking cookies. The application clearly employs these pieces of software to monitor your online behavior.
What's more, with the tracking out in the open, it is only natural that Funfeedr also displays commercial advertisements. What's more, the program may share your personal information with third parties for marketing purposes. Although that does not lead to malware infection by default, in the end it could expose you to corrupted third-party content. Potential computer security threats often come in groups, so if you let one in, you can be sure that your security will eventually come crashing down like a domino.
Therefore, before any of that happens, you need to do everything you can to protect your computer from harm. That is why you are strongly recommended to remove Funfeedr from your browser. It is not hard to do it on your own, but you should consider the fact that this application might have arrived with some other unwanted program.
It is especially relevant if you did not know you had Funfeedr installed on your browser. To find any other unwanted applications, please scan your computer with the SpyHunter free scanner. When you are done with the full system scan, terminate any potential threats automatically.
You can ensure your system's safety by investing in a licensed antispyware program of your choice. Also, you should stay away from unfamiliar web pages that offer you to install freeware on your computer.
How to Remove Funfeedr
Open the Mozilla Firefox browser.
Press Ctrl+Shift+A and the Add-ons manager tab will open.
Disable and remove Funfeedr.
Restart your browser for the changes to take effect.
In non-techie terms:
Funfeedr is a browser extension that is supposed to increase the productivity of your web usage. However, we have found that this application does not do everything it has promised to, and it may also inadvertently expose your personal information to unreliable third parties. You should get rid of Funfeedr as soon as possible and then delete any related applications that might have come alone. For an alternative software removal method, you can refer to the secondary set of instructions below.