Do you know what FunData is?
FunData is a folder that belongs to a problem called Funshion. This application is created by Chinese developers, and it is used for a direct P2P video streaming. This application is not a malicious computer infection. It says that it "will developed and operate the second generation of P2P internet platform." Users have problems with FunData when the application in question comes bundled with third-party programs. Hence, if you did not install Funshion on your own, you should get rid of this application because that is the only way how you remove FunData.
Since Funshion is not a malicious infection, it is possible to download and install the application via fun.tv website. If that is the case, then you should not be surprised to find FunData on your computer. However, in some cases Funshion might be bundled with potentially unwanted applications. Our researchers say that sometimes the program's setup might be completely silent – meaning that you will not be notified of the new program's installation. What is more, Funshion might allow you to stream videos, but it also performs certain functions behind your back. For example, Funshion may connect to the internet without your permission and download more unwanted applications onto your computer.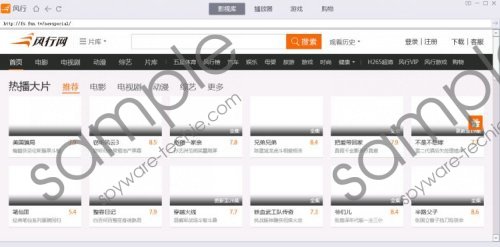 FunData screenshot
Scroll down for full removal instructions
These potentially unwanted applications include Baidu Browser, 360 Browser, 360 Antivirus, and many other programs. On top of that, FunData and Funshion may also display a lot of commercial pop-ups that can slow down your browser and impede your overall web browsing experience. It shows that Funshion is not a completely reliable application, and you should not keep it on your computer unless you downloaded the program willingly. Rather than being a potentially unwanted program, Funshion is practically on the verge of being an adware application.
Whichever way it might be, if you want to get rid of FunData, you need to uninstall Funshion. You should also consider deleting this application from the system if you want to protect your computer from harm. Although this application does not try to infect you with malware, it clearly has several security loopholes that can be exploited by malevolent third parties. Uninstall Funshion right now and prevent similar computer issues in the future.
If you are not sure whether Funshion downloaded more unwanted programs on board, you can scan your PC with the SpyHunter free scanner. The scanner will detect all the potential threats (if any), and you will have a chance to terminate unwanted programs automatically. Also, should you have any further questions; you can always leave us a comment in the box below.
How to remove FunData
Windows 8
Move mouse cursor to the bottom right of the screen.
Click Settings and go to Control panel.
Select Uninstall a program and remove Funshion.
Windows Vista & Windows 7
Click Start menu button and go to Control Panel.
Open Uninstall a program and remove Funshion.
Windows XP
Click Start menu button and navigate to Control panel.
Select Add or remove programs and uninstall Funshion.
In non-techie terms:
FunData is not a program. It is a folder that belongs to Funshion application. We recommend that you remove Funshion from your system to avoid potential security risks. For an alternative software removal method, please refer to the secondary set of instructions below this description.