Do you know what FullVideoConverterPro is?
You may be given the impression that FullVideoConverterPro is a gem of a video converter, but in reality it is a potentially unwanted program that you ought to remove. It is not the best program to have, because it may start displaying commercial advertisements in its user interface. This converter is capable of actually converting files and it does that very fast, too fast in fact, which leads us to believe that the quality is not the greatest and this becomes very apparent on closer inspection. Furthermore, it comes bundled with malicious software, so if you have this program, be sure to scan your computer with an antimalware tool. For more information, please read the full description.
From the very outset, it must be said that this converter comes bundled with potentially malicious software by default. Our researchers have found that it may come bundled with Babylon Toolbar, FunMoods Toolbar, and Incredibar Toolbar that you also ought to delete. The aforementioned programs were bundled with FullVideoConverterPro and put up for download on this converter's promotional and distributional website called Fullvideoconverterpro.com. Note that this converter itself may be bundled with other malicious programs and put up for download on murky websites. Therefore, you should not download software from unfamiliar websites. However, we understand that that is not always possible. Therefore, we stress the need to protect your PC using an antimalware program.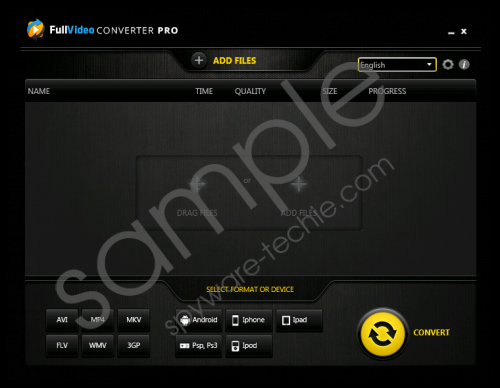 FullVideoConverterPro screenshot
Scroll down for full removal instructions
Installing FullVideoConverterPro is a gamble, because you never know what kind of programs will follow in its wake as it always comes bundled. In any case, once you install this video converter you can jump right in and easily convert AVI, WMV, FLV, and other video file formats. However, the list of supported formats is not the greatest. It seems that this program's developers did not take the time to make something really useful. Note that FullVideoConverterPro is very similar to SpeedVideoPlayer, and we think that they come from the same developer. And, the developer itself is unknown to us. All we know that this converter was published by System Manager LLC. Yet, there is no information about this developer whatsoever.
Furthermore, it is also very important to note that FullVideoConverterPro has the ability to show commercial advertisements inside its user interface, which can be annoying at times. However, annoyance is not the main issue here. We are more concerned with the fact that the promotions can be misleading, and, for example, you may accidentally install adware if you click an ad. In addition, FullVideoConverterPro can manipulate your browser and open new tabs that feature promoted websites.
It is no wonder that FullVideoConverterPro is a potentially unwanted program. It comes bundled with malicious applications, its conversions are of arguable quality, and it can display ads and tamper with your browser. Therefore, we think that this program is unreliable. However, it is up to you to decide whether to keep it or not. If you choose to uninstall FullVideoConverterPro, then take a look at our removal guide.
Get rid of FullVideoConverterPro
Windows 10
Right-click on the Start menu and select Programs and Features.
Identify the undesirable program and right-click on it
Click Uninstall.
Windows 8 and Window 8.1
Press the Windows Key+X on your keyboard.
Open Control Panel and click Uninstall a program.
Identify the program and double-click on it.
Click Uninstall.
Windows Vista and 7
Press Windows Key+R on your keyboard.
Type Control Panel and click OK.
Go to Uninstall a program.
Identify the unwanted converter and click the Uninstall button.
Windows XP
Open the Start menu.
Open Control Panel and click Add or Remove Programs.
Identify the application and click Remove.
In non-techie terms:
FullVideoConverterPro is a video converter that our researchers have classified as a potentially unwanted program due to its ad-displaying capabilities, poor conversion quality, and its shady distribution methods as it comes bundled with malicious. This neat little package of trouble has no reason to remain on your computer, so you can remove it without any hesitation.