Do you know what Fud@india.com is?
Fud@india.com is an email address that you might be ordered to contact to receive a private key that allegedly can help you restore your personal files. Documents, photos, videos, and other types of personal files can be encrypted and renamed to [filename].id-[ID]_fud@india.com by the ransomware. Our researchers have discovered that the infection adds a ransom message to every folder containing encrypted files. The creators of Fud@india.com have not even tried to hide their intentions, as the first statement in the message indicates that a user is under an "attack." This is good news because users can make wiser decisions about what they want to do next. Of course, we recommend deleting Fud@india.com ransomware, but every decision regarding the removal of this infection has to be deliberated carefully. If you remove the ransomware alongside the corrupted files, you will not be able to restore them in the future.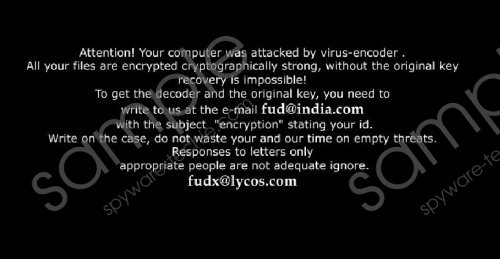 Fud@india.com screenshot
Scroll down for full removal instructions
Windows users often find that they need to remove Fud@india.com ransomware after accidentally executing the malicious infection themselves. If you have opened a corrupted spam email attachment, the dangerous Fud@india.com could become a time-consuming problem before you know it. The devious threat immediately encrypts files, deletes backups and Shadow Volume Copies, and rushes you to contact fud@india.com to acquire a decoder that supposedly should decrypt files. If you contact schemers, they will ask you to pay money for the decoder of whose effectiveness you cannot be sure. Even though the primary goal for cyber criminals is to convince you that you need to pay a ransom, they could also use the communication to expose you to additional malware installers and other scams in the future. Have you already decided to remove Fud@india.com from your operating system? If you have, there is no reason why you should contact cyber criminals. Of course, if you have decided to delete Fud@india.com, you must have made a decision about the encrypted files as well.
Coin Locker, ZeroLocker, CTB-Locker, and other malicious ransomware infections also encrypt personal files on Windows systems to convince users into giving up their money. Even though there are a few decryption tools that might help you decrypt files affected by Fud@india.com ransomware for free, we cannot vouch for any of them. Of course, you should consider looking into this software before you remove Fud@india.com if you have no other way to restore your personal files. Do you have backup copies of these files? If you do, we recommend removing Fud@india.com without further delay. We advise using automatic malware removal software to delete this malicious infection.
Remove Fud@india.com
Open the browser and visit http://www.spyware-techie.com/download-sph .
Install the automatic malware detection and removal tool SpyHunter onto your PC.
Initiate a full system scan to determine which malicious threats you need to delete.
Click Fix Threats to delete the malware detected.
In non-techie terms:
You have to be very careful with the demands of Fud@india.com. The email address belongs to cyber criminals who have created a clandestine ransomware infection that is capable of encrypting personal files. According to our malware researchers, it is impossible to decrypt files without getting the decryption key, which is why it is not surprising that many users choose to pay money for this key before they remove Fud@india.com. It is because of infections like this one we cannot stress enough how important it is to backup personal files. If you do have backups, you can delete Fud@india.com without wasting another moment.