Do you know what FUCKMEDADDY Ransomware is?
Our specialists working at the cybersecurity department have discovered a new ransomware infection recently. It has been named FUCKMEDADDY Ransomware. At the time of writing, it was not a real threat, but it might be updated and used as a tool to obtain money from users in the future. If you ever encounter this crypto-threat, delete it from the system as soon as possible no matter it has locked files on your computer or not. It has turned out that FUCKMEDADDY Ransomware is a clone of Jigsaw Ransomware (you can read about it on our website), i.e., it has been developed on the basis of its source code, but you should find it easier to erase this threat from the system because, unlike its predecessor, it does not make any modifications in the system registry. That is, it does not create an entry in the Run registry key. Of course, we still recommend that you consult our manual removal guide (you can find it below this article) before you go to erase this malicious application from your computer.
According to our researchers, the chances are high that FUCKMEDADDY Ransomware is not distributed actively by cyber criminals and is not used for money extortion. They say that it might be used for testing only. Of course, they cannot guarantee that it will not be used as a tool to obtain money from users in the future. No matter which version of FUCKMEDADDY Ransomware you encounter, a window with an image of a nude girl and a ransom note will be opened on Desktop. It does not lock the screen – it can be closed by killing the malicious process representing FUCKMEDADDY Ransomware in Task Manager. Just like a bunch of other ransomware-type infections, this threat also demands money from users in exchange for the decryption of files. The price of the decryption tool is absurd – 100000000 USD, which shows again that this ransomware infection is still in development, it is used for testing only, or it has been developed just for fun. Last but not least, what else shows that it is not one of these harmful threats used to obtain easy money is that it encrypts only one folder FileSystemSimulation which it drops itself after slithering onto the computer. Since it might be updated/fixed at any time, you might encounter its new version working completely differently. In any event, focus on the FUCKMEDADDY Ransomware removal and do not send money to cyber criminals behind it. It is never a good idea to support malicious software developers no matter what they promise because they will never stop developing new harmful threats if they get all they want.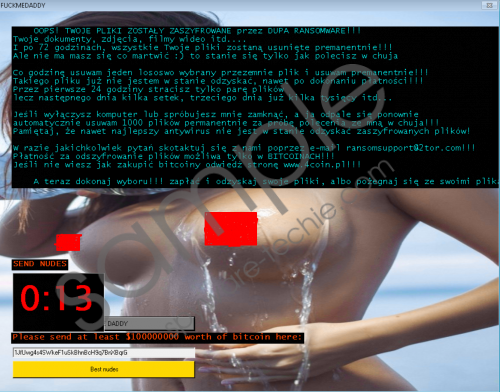 FUCKMEDADDY Ransomware screenshot
Scroll down for full removal instructions
FUCKMEDADDY Ransomware is not actively distributed yet, so the chances are not very high that you will encounter it. Of course, there is still a slight possibility that cyber criminals will start distributing it actively one day, so you cannot be careless. What we recommend for you if you do not want to encounter FUCKMEDADDY Ransomware is to ignore all spam emails, especially those holding attachments, because it is very likely that it will be distributed via malicious emails like other older ransomware infections. Additionally, you should download software only from reputable websites – malicious software might be disguised as ordinary applications.
You need to remove FUCKMEDADDY Ransomware from your system fully no matter it has locked files on your computer or not. First, close the window opened on your Desktop by killing the malicious process. Second, remove the folder named FileSystemSimulation and two .txt files dropped by the ransomware infection from Desktop. You can erase this infection from your system automatically as well, but, in this case, you will need to acquire and install a powerful antimalware scanner on your system.
Remove FUCKMEDADDY Ransomware

Press Ctrl+Shift+Esc to open Task Manager.
Open the Processes tab and check all active processes.
Kill the malicious process and close Task Manager.
Open Explorer and access %USERPROFILE%\Desktop.
Remove the FileSystemSimulation folder.
Delete two files: EncryptedFileList.txt and Address.txt.
Remove all recently downloaded suspicious files.
Empty Recycle bin.
In non-techie terms:
FUCKMEDADDY Ransomware was not a prevalent threat at the time of writing, but it might become a harmful infection in the future, so do all it takes to prevent it from slithering onto your computer. The easiest way to ensure the computer's maximum protection is to enable security software on it. You should install an antimalware tool on your system even if you have already encountered FUCKMEDADDY Ransomware because it will help you to prevent new harmful infections from entering the system.