Do you know what Fruit Basket is?
Our researchers have recently discovered a new SuperWeb adware application called Fruit Basket. Since we are fully aware of the dangers this program poses, we advise you to remove it, because failure to do so might lead to detrimental consequences. By detrimental we mean that your computer might be infected with malicious applications that could do all sorts of damage. This article should mostly concern users who have Internet Explorer and Firefox, as Chrome blocks this infection from installing. We hope this article will be of use to those still debating on whether to remove this app or just let it remain.
Fruit Basket has been created at the SuperWeb LLC. The company is widely known for developing adware applications that is basically the same application with a facelift. Indeed, Fruit Basket is no deferent from Special Box, Wild West, Metal Maker, and so on. All of these applications are the same, and you should remove them if your PC has been infected with more than one SuperWeb infection.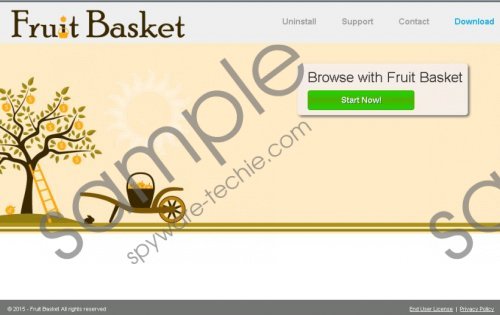 Fruit Basket screenshot
Scroll down for full removal instructions
At any rate, Fruit Basket has its own website at Fruitbasketsite.com. The website provides some laughable information claiming that the app will enhance browsing experience by bombarding your screen with advertisements. The website claims to provide and compare the best deals and prices, which is a blatant lie, since this low grade adware app is not integrated with any other advertising platform. Nevertheless, Fruit Basket is known to be distributed via freeware bundles, found on websites such as Soft32.com.
Fruit Basket has been developed to serve the interest of its developers and the shady third parties that they represent. Its developers utilize the pay-per-click system to generate income for the services that they provide. The way this system works is that it is not enough for the program to render an ad, the user must click it in order for the developers to get paid. Therefore, Fruit Basket also collects information that is used to make changes to their advertising tactics in order to attract the users. Note that Fruit Basket displays ads in the form of pop-ups, coupon, in-text ads, banners, and so on. Be careful not to click any of them, because there is a chance that your computer will get infected with malware.
We recommend that you remove Fruit Basket from your PC because it displays advertisements provided by unreliable third parties that could infect your system with malicious applications. Furthermore, the program is known to collect information without the user's consent. Therefore this program does not deserve to remain on your computer and you should remove it.
How to remove Fruit Basket from Windows
Windows 8 and Windows 8.1
Open the Start Screen.
Type Uninstall in the search box and then go to Settings.
In the search results, click Uninstall a program, find Fruit Basket.
Click Uninstall.
Windows 7 and Windows Vista
Click Start.
Select Control Panel.
Click Uninstall a program, find Fruit Basket.
Click Uninstall.
Windows XP
Open the Start menu.
Click Control Panel.
Select Add or Remove Programs, find Fruit Basket.
Click Uninstall.
Remove the Fruit Basket browser extension
Internet Explorer
Press Alt+X.
Click Manage Add-ons.
Click Toolbars and Extensions.
Click Remove Fruit Basket and click Close.
Mozilla Firefox
Press Ctrl+Shift+A.
Click Extensions and click Remove Fruit Basket.
In non-techie terms:
Fruit Basket is an advertising-supported application that displays unreliable third-party advertisements that come in the form of coupons, pop-ups, in-text ads, and so on. We warn users that some of these ads may be fake and your computer could be infected with malicious applications that will do a lot of harm to your system. In addition, the program collects information about a user's browsing habits, which can only be regarded and a violation of privacy. Therefore, we recommend that users remove this application.