Do you know what ".frmvrlr2017 File Extension" Ransomware is?
".frmvrlr2017 File Extension" Ransomware is a variant of Globe Ransomware. It does not differ much from its predecessor. It also mercilessly locks users' files once it infiltrates their computers. Ransomware infections lock files on affected computers and no longer allow users to access them not without reason. Cyber criminals want to extract money from users, and they know that this will not be easy, so they use ".frmvrlr2017 File Extension" Ransomware to lock victims' personal files and then demand a ransom from them. Researchers say that the chances are high that this ransomware infection targets Turkish-speaking users primarily, but, of course, it might slither onto any unprotected computer, so we cannot guarantee that it will not show up on your PC one day. Have you already encountered this ransomware infection? If it is the reason you are reading this article, we highly recommend that you immediately get rid of this threat. It is not one of those malicious applications that create Values in the system registry so that they could start working on system startup, but you still need to erase it fully because you might accidentally click on its launcher again one day. If you do this, there is basically no doubt that you will find new files encrypted on your system soon.
No doubt ".frmvrlr2017 File Extension" Ransomware is one of those ransomware infections that try to obtain money from users. Because of this, it will encrypt files on your system if you ever encounter it. Even though there are hundreds of ransomware-type infections available, ".frmvrlr2017 File Extension" Ransomware is the one that has locked your data if your all files have been renamed and you can see .frmvrlr2017 appended to them all. One more symptom showing that you have encountered ".frmvrlr2017 File Extension" Ransomware is the window opened on your Desktop. This infection has also been developed by malicious software developers to extract money from users, but you should not pay a cent to crooks because this ransomware infection is decryptable. That is, you can download the file decryptor for free from the web and use it to unlock your files. On top of that, files can be restored for free from a backup. It should be emphasized that you could do this only if you have ever backed up your valuable files. Before you go to restore your encrypted files, make sure the ransomware infection is deleted fully from your system. We will talk about its removal in detail in the final paragraph of this report.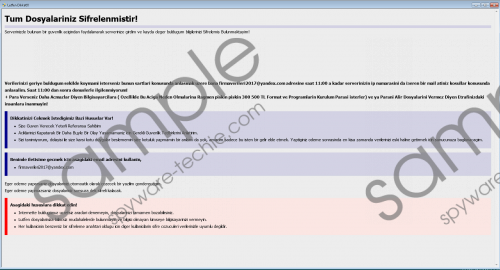 ".frmvrlr2017 File Extension" Ransomware screenshot
Scroll down for full removal instructions
Specialists say that ".frmvrlr2017 File Extension" Ransomware should be distributed just like Globe Ransomware because it is considered its new variant. That is, it should be spread via spam emails. It is one of the most popular methods to distribute these threats. In most cases, they are spread as ordinary email attachments, but, in some cases, users might see a link after opening an email distributing ransomware. They do not know that the link is malicious and click on it without fear. Unfortunately, they initiate the ransomware download by doing that. Specialists say that cyber criminals might upload ransomware infections to file-sharing websites as well, so make sure you do not download software from dubious websites. We can assure you that ransomware infections are not the only threats you might download from these pages. If you are not going to stop downloading applications from the web, you should, at least, keep your antimalware tool enabled on your system 24/7.
You must delete ".frmvrlr2017 File Extension" Ransomware fully as soon as possible because the presence of a single component belonging to the ransomware infection might result in its revival. Luckily, this threat does not belong to the group of sophisticated crypto-malware, so we are sure that you will remove it manually yourself if you perform all removal steps indicated in the manual removal guide – find it right below this paragraph.
Delete ".frmvrlr2017 File Extension" Ransomware
Press Win+E.
Type %USERPROFILE%\Downloads in the URL bar and press Enter.
Delete all suspicious recently downloaded files.
Empty Recycle bin.
In non-techie terms:
".frmvrlr2017 File Extension" Ransomware is a typical ransomware infection that does not differ much from Globe Ransomware. Because of this, you will also find your files locked after its successful entrance. Just like other ransomware-type infections, this malicious application is used to obtain users' money, but you should not transfer money to cyber criminals even if they promise to unlock files for you when they receive the ransom. We say so because there are no guarantees that your files will be unlocked/you will get the decryption tool for unlocking your files after making a payment.