Do you know what Free Youtube Downloader is?
Any YouTube user would like to have a free application one day that enables them to download videos just like Free Youtube Downloader promises to do. However, we must warn you that this application is rather suspicious and totally useless as well. Due to the questionable traits this program showed while being tested by our researchers, it has been categorized as a potentially unwanted program, i.e., a PUP. We cannot call this PUP a downright malicious application because it does not actually cause direct harm to your operating system. However, it is still not a completely reliable program either. Many users keep such PUPs on their computers because they either do not even know such programs have been installed or they do not consider them a threat in any way. "There is enough space on my hard drive," may be the motivation behind leaving such useless and potentially unreliable applications on board. We are here to help you decide the fate of this PUP. That is why we are sharing with you what our researchers have found out about this infection. Please read our full report to understand why we advise you to remove Free Youtube Downloader from your computer.
There are several questionable and downright suspicious things about this PUP. Let us start by mentioning its promotional website that actually has got blacklisted. You can find this site at youtubedownloadernew.com, but we do not recommend visiting it. As a matter of fact, you cannot even load this page if you have a decent malware removal application on your computer. The page gets blocked right then, right there. According to our researchers, the domain where this site is hosted (176.32.230.44) is actually blacklisted by an anti-hacker group. This is certainly not a good sign and reveals some untold stories about this application, too. Currently it seems that this PUP does not spread over the web in free software bundles, so it is most likely only available through its website. For a security-minded computer user these aforementioned bits of information would already be enough to want to delete Free Youtube Downloader right now. But let us go on because this is certainly not all there is to it.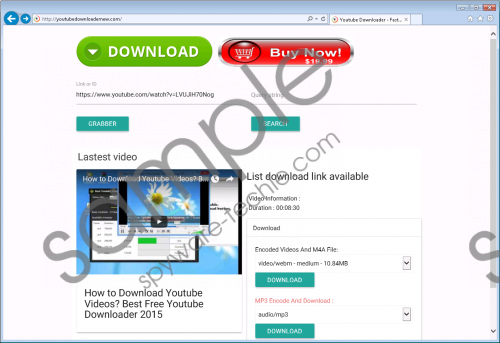 Free Youtube Downloader screenshot
Scroll down for full removal instructions
This PUP is rather suspicious and might resemble Trojans because when you install it, it targets your %windir% directory first. Applications that use this directory usually want to hide from you and the system as well, and you can bet that this does not happen with good intentions. After this application finishes installation, it displays an annoying window on your screen that cannot be closed. This is a very low quality window that does not even resemble proficiency. This window claims that your Windows must be activated within one day or otherwise you cannot use all its features. A telephone number is provided, which is supposed to be a support number where you could activate your operating system.
However, we recommend that you forget about calling this number since it may well be a scam. Lots of computer users have already become a victim of similar telephone scams. Usually there is an allegedly toll free number that the user is supposed to call. But when you call that number, you may be given a lengthy presentation and finally asked to buy some product while the call itself may also cost you a lot of money. It is also possible that schemers try to get personal information about you over the phone. In any case, we believe that it is not safe to call that number that is presented in such a questionable manner and quality to you. Instead, you should not hesitate to remove Free Youtube Downloader.
There is only one way to get rid of this alert window, if you end the process through Task Manager. Since this pop-up will be displayed on top of all your open windows, it can be very annoying and disruptive as well. Once you clear it, you will be disappointed again since you cannot even download videos with this PUP. It has no such function whatsoever. This PUP is therefore totally worthless and should not be kept on your computer just to take up space. Who knows what kind of potentials it might have. What if cyber criminals might be able to use it to access information about you and your system? All in all, we think that you should not hesitate to delete this annoying PUP.
In order to eliminate this suspicious application, we advise you to use the following steps. First, make sure that the process (box.exe) this PUP uses is shut down. Next, uninstall the application via Control Panel. And finally, remove the folders this program creates because the uninstaller may leave some leftovers behind. Please use our guide below as a reference if you are not familiar with the aforementioned process. If you do not want go manual on this, you also have an option. You can download and install an up-to-date antimalware application. Be careful and make sure that you download a decent and reliable tool because the Internet is full of fake security tools that may cause more harm to your system than good.
Kill the unwanted process
Tap Win+R and type in taskmgr.
Select the process called box.exe.
Click End task.
Close the Task Manager.
Free Youtube Downloader Removal from Windows
Windows 8, Windows 8.1, and Windows 10
Tap Win+X and access Programs and Features.
Select the application and click Uninstall.
Windows Vista and Windows 7
Open the Start menu and select Control Panel.
Choose Uninstall a program.
Uninstall the undesirable application.
Windows XP
Access the Start menu and go to Control Panel.
Pick Add or Remove Programs.
Remove the unwanted application from the list.
Manual Removal
Tap Win+E.
Locate "%PROGRAMFILES(X86)%\Youtube Download.US" (64-bit!) and delete this folder.
Locate "%PROGRAMFILES%\Youtube Download.US" and remove this folder.
Locate "%windir%\Free Youtube Downloader" and delete this folder.
In non-techie terms:
Free Youtube Downloader is a worthless piece of software that poses as a tool to download YouTube videos with. Unfortunately, this program does not deliver and its function as a downloader seems to be non-existent at all. Our researchers have labeled it as a potentially unwanted program. You should know that even its website has been blacklisted, so if your computer is protected by a security tool, you could not even visit its promotional website since it gets blocked as soon as you try to load it. If somehow you have this application on your system, we recommend that you remove it; and the sooner, the better. If manual removal is out of the question for you, we suggest that you implement a trustworthy automated tool, such as an antimalware program. With this tool you can detect and eliminate all threats that are present on your computer with a single click of a button. What could be simpler than that?