Do you know what FraLimbo is?
FraLimbo is an adware application that will make sure you are flooded with commercial offers each time you access eBay, BestBuy, Amazon or any similar online shopping website. It would actually be great if FraLimbo could provide you with relevant information on where to buy goods at an optimal price. Unfortunately, FraLimbo is no interested in giving you the most relevant information – it only wants to make money and displays whatever its partners want it to display. Hence, you should remove FraLimbo from your system, because the application is definitely up to no good.
FraLimbo was developed by SuperWeb LLC which puts it into a big group of adware applications that are extremely annoying. The only good thing about FraLimbo is that it can be easily removed from the PC via Control Panel. In fact, when we take into account all the other applications that have been there before FraLimbo (like WiseEnhance, Rock Turner Ads or Laflurla), we will see that they are all the same and do not differ, not in the slightest. Even their websites are all identical – FraLimbo's fralimbo.net looks very much like WiseEnhance's wiseenhance.com and both pages are nothing but empty shells.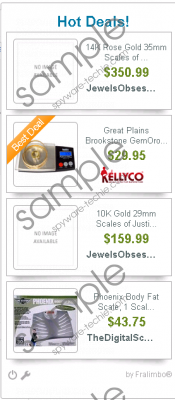 FraLimbo screenshot
Scroll down for full removal instructions
It is clear that one cannot download FraLimbo from the "official homepage", because it is there only to make an impression that FraLimbo is a trustworthy application. According to our security research, rather than being distributed through official website, SuperWeb adware apps ALWAYS arrive bundled with freeware via third party installers and downloaders. It means that you most probably have installed FraLimbo onto your computer without even realizing it, and you also have more than just one potentially dangerous application on your PC.
When FraLimbo is installed on target computer, it adds extensions to Google Chrome, Mozilla Firefox and Internet Explorer web browsers. Then it starts collecting data on your web browsing habits via tracking cookies. Also, each time you access ebay.com or amazon.com or any other online shopping page, FraLimbo will display banner ads, shopping suggestions and commercial pop-ups. It can also open new tabs to various servers that are full of adware, pushing you into download fake Java or Media player updates. Needless to say, that downloading these "updates" installs even more adware onto your computer, and in the long run your system could be completely paralyzed with computer malware.
Uninstall FraLimbo right now following the manual removal instructions below. Running a full system scan with a licensed antimalware tool would also be a good idea. Do all you can to safeguard your system from potential threats.
How to remove FraLimbo
Windows 8
Slide mouse cursor to the bottom right of your desktop.
Wait for Charm bar to appear and then click Settings.
Go to Control Panel and select Uninstall a program.
Highlight FraLimbo and click Uninstall.
Windows Vista & Windows 7
Open Start menu and click Control Panel.
Select Uninstall a program and remove FraLimbo.
Windows XP
Click Start menu button and navigate to Control Panel.
Select Add or remove programs and uninstall FraLimbo.
In non-techie terms:
FraLimbo is a browser extensions classified as adware. It means that FraLimbo slows down your browser and shows a lot of annoying commercial advertisements that eventually may lead to serious computer problems. To avoid them, remove FraLimbo from the system right now.