Do you know what FPSeek.com is?
If your browser's homepage was recently changed to FPSeek.com without your authorization, then you should know that your browser was infected with a browser hijacker. Removing this hijacker is highly recommended not only because of the fact that it can change your browser's homepage without your knowledge or consent, but also because it can keep tabs on your browsing-related information and show promoted links in the search results. Therefore, our researchers find this search engine malicious and believe that it can pose a significant threat to your computer's security and your privacy.
If this hijacker were to infect your computer, then it would replace your browser's homepage address. It should be compatible with Google Chrome, Mozilla Firefox, and Microsoft Internet Explorer. Researchers say that it might be distributed with an accompanying browser extension, but they have yet to find any samples of such an extension. Regardless of how it is distributed, our security specialists assume that it is distributed in a malicious manner and is set to replace your browser's homepage without your knowledge or approval.
It appears that, like most browser hijackers, FPSeek.com was also configured to show promoted links in its search results. Even though it redirects all of the entered search queries to Bing, this hijacker can modify them to include websites of its choice. Therefore, there is no way of knowing whether the search results are safe or whether they contain links to malicious websites that feature malware or scam websites. This malicious search engine can subject you to dangerous content, so using it as a regular search engine is a bad idea.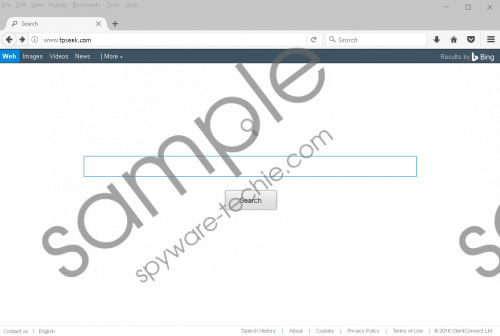 FPSeek.com screenshot
Scroll down for full removal instructions
Our malware researchers have found that this malicious search engine can collect certain information about you. It can obtain technical and usage information that includes your IP address, ISP (Internet Service Provider), location, anonymous user identifiers, device configuration and identifiers, Advertising ID (Identifier for Advertisers used in Android), browsing history, entered search queries, and so on. The developers use this information to examine your browsing preferences, determine your personal interests and assign region-specific, tailored promotional links. FPSeek.com's developers make money off this and in return — you get to see potentially malicious search results.
Before we move on to the removal guide, we want to elaborate on FPSeek.com's origins. Our malware analysts have concluded that this browser hijacker was created a company known as ClientConnect Ltd. This company was set up by Perion, a company that merged with the infamous Conduit malware developer. As a result, ClientConnect continues Conduit's work and developers malicious browser extension and browser hijackers and uses them to promote third-party content and make money. To our knowledge, FPSeek.com is distributed without a browser extension, but that can change. In any case, it is bundled with malicious third-party installers that inject it into your web browser without your knowledge or consent.
In closing, FPSeek.com is one nasty search engine that can cause you a lot of trouble. Our researchers have concluded that it can hijack your browser's homepage and subject you to potentially malicious websites. Therefore, we advise that you remove it from your browser as soon as possible. Researchers say that its Target line might also be hijacked so remember to check to see if that is the case.
Fix the Target line
Right-click the web browser's shortcut.
Select Properties and open the Shortcut tab.
Erase http://www.fpseek.com from the Target line.
Click OK.
Replace the browser extension
Microsoft Internet Explorer
Hold down the Alt+T keys.
Select Internet Options.
Go to the General tab.
Change the homepage address.
Click Apply and click OK.
Mozilla Firefox
Hold down the Alt+T keys.
Select Options.
Go to the General tab.
Change the homepage address.
Google Chrome
Hold down Alt+F keys.
In the dropdown menu, select Settings.
Click Set pages and enter a new homepage address.
Click OK.
In non-techie terms:
While FPSeek.com can be used as a regular search engine, you recommend that you do not because its search results can feature promotional links that can be malicious. Furthermore, it can replace your browser's homepage address without your knowledge or approval. Therefore, we consider it a browser hijacker. Removing it is vital to your computer's security, so we invite you to make use of the instructions provided above and perhaps scanning your PC with an anti-malware program, provided your PC has been infected with this browser hijacker.