Do you know what FoxyDeal is?
First and foremost, FoxyDeal is not a useful program. It will not improve your online shopping experience in any way. It is, in fact, an adware application, and its sole purpose is to subject you to commercial content. Given the fact that the ads are supplied by third parties, we consider them unreliable. Indeed, there is a certain amount of risk involved in keeping this application installed. Your computer might be subjected to malicious content, and in some cases may become infected with malicious software. Therefore, we highly recommend that you remove this add-on.
Let us begin discussing this adware application by first exploring its origins and how it is distributed. It seems that FoxyDeal is registered in Cologne, Germany, to a company called R&E Media GmbH. The application has a website, called Foxydeal.com. The company's website is located at Re-media.eu. It appears that this particular application is R&E Media's only product, which is just as well. Nevertheless, this program cannot be downloaded from any of these websites. We know, however, that the program is distributed using software bundles. We must warn you that in most cases the application is installed silently with no mention of the application's name anywhere in the installer.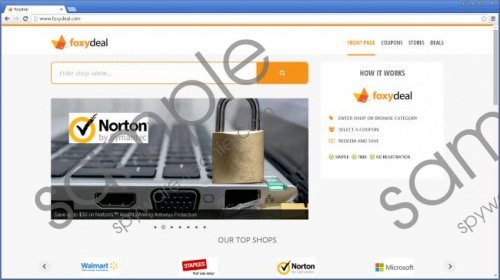 FoxyDeal screenshot
Scroll down for full removal instructions
FoxyDeal is supposed to provide you with discount coupons, which can be used in partner stores. The funny thing is that most of the coupons are now expired, will expire on the day you claim them or will expire 35 years from now, but cannot be used. Coupons that have not yet expired have no code, so they are worthless. But, once you click a coupon, an online shop's website will open in a new tab. There are no guidelines on how to use the coupons whatsoever. We assume that one of the application's purposes is to increase web traffic to specific retailers. FoxyDeal also shows various coupons, pop-ups, and various other types of advertisements. The ads can be quite irritating to so users, so you can also remove it on grounds that it obstructs your day-to-day browsing.
One odd thing about FoxyDeal is that it is not mentioned anywhere on the website Foxydeal.com. Only after reading the End-User License Agreement it becomes apparent that the website is associated with this application. It must be said, however, that the application does not collect personally identifiable information, but, nevertheless, non-personal information is collected with the use of browser cookies. "When you use your browser to search for products on certain retail websites, the Add-on enables your browser automatically to check other similar sites to see if other retailers are offering the same product at a lower price." Seems legit, right? But it is highly unlikely that FoxyDeal does that, as it cannot have access to the databases of so many retailers.
If you find this application useful, then by all means keep it, but if you are of the opinion that it only serves the interests of its owners and not you, then you are completely right. Our analysis proves that FoxyDeal will not improve the quality of your online shopping. It will only nag you with irrelevant promotions. Therefore, we suggest that you remove it as swiftly as possible. Feel free to use the removal guidelines found below the article.
How to remove the unwanted program from your computer
Windows XP
Open the Start menu, and click Control Panel.
Open Add or Remove Programs.
Locate the program and then click the Remove button.
Windows Vista and 7
Open the Start menu, and click Control Panel.
Select Uninstall a program.
Locate the unwanted application and then click the Uninstall button.
Windows 8 and 8.1
Open the Charm bar.
Click Settings, and select Control Panel.
Open Uninstall a program.
Locate the application and then click the Uninstall button.
In non-techie terms:
FoxyDeal is an adware-type application that displays various promotional pop-ups, and discount coupons. A closer analysis of the application and its website, suggests that the coupons are fake and do not work. It is obvious that this program will not give you discount coupons for free. So you should remove it, especially since it is almost always installed without the user's consent.