Do you know what Foryourweb.net is?
Foryourweb.net is an innocent-looking search engine; however, it appears on your computer silently and alters your browser home page without your knowledge, which puts it into the browser hijacker category right away. Our researchers have found that this search engine has no benefit or use for you at all. In fact, it is quite likely that this hijacker is distributed together with other infections. If you do not identify the potential intruders and act ASAP, you may let your system turn into a chaotic contamination zone that might result in an OS reinstallation "spiced" with hard drive formatting. We do not think you want to go through these. Removing Foryourweb.net and all the threats that may be associated with this hijacker is a good start to protect your PC. However, you would be much better off if you had reliable antimalware software installed because you would not even have to be here reading articles about malware removal. That would be a thing of the past with a proper security tool on-board.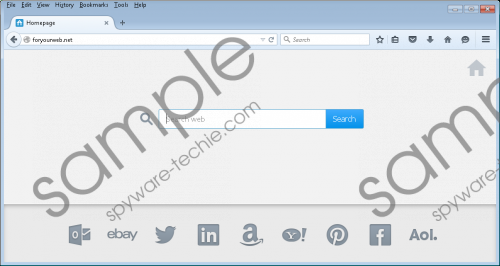 Foryourweb.net screenshot
Scroll down for full removal instructions
Foryourweb.net can emerge on your computer if you run a bad downloader. How is it possible? Well, it is enough to click on the wrong button on the wrong website. You may have noticed that certain torrent and freeware websites display third-party ads that misleadingly resemble download buttons or anything else that matches the purpose or content of the given website. Clicking on these ads may easily result in activating a downloader that installs a number of malware infections onto your computer. In this case, Foryourweb.net may be your smallest problem. Imagine letting more harmful browser hijackers or adware programs onto your system. They may introduce you to potentially harmful third-party advertisements, which could redirect you to malicious websites. This could start an avalanche of infections and that might cripple your computer. You can prevent this nightmare from happening if you act now. Deleting Foryourweb.net should be your first move and follow it by scanning your system with a reliable online scanner.
This browser hijacker offers you easy-access links to some popular websites, including Twitter, Facebook, Yahoo!, and Pinterest. But once you decide to use it to search the web, surprisingly, you will find yourself on a Google results page. Foryourweb.net simply redirects your queries to Google. How about that? So why not use Google instead? This is a rather questionable behavior that is characteristic of most of the browser hijackers, as a matter of fact. It also makes it completely worthless. Why would you keep such an intrusive and stealthy tool on your computer?
So how can you remove Foryourweb.net if it has no uninstaller and does not go away even if you restore your home page settings in your browsers? Well, you are right if you think that you need to restore the home page settings; however, you need to do something first so that that would be effective. This hijacker modifies the Target line settings. That is why any time you launch your browsers, the home pages will be reset to Foryourweb.net. Tricky one, right? If you may not know what the Target line is or how to restore your browser settings, you will find our guide quite helpful. If you want to make sure that your computer is secure, you should install a powerful antimalware application. What could be more effective than an up-to-date malware remover that automatically tackles all threats and protects your system from all known infections?
How to restore the Target line
Right-click on the browser shortcut and choose Properties.
On the General tab uncheck the box next to Read-only if it is checked.
Click on the Shortcut tab go to the Target line and remove the text in the URL address after the quotation marks.
Click OK.
How to reset browsers
Internet Explorer
Press Alt+T and navigate to Internet Options.
On the Advanced tab, click Reset.
Mark the Delete personal settings checkbox and click Reset.
Press Close.
Google Chrome
Tap Alt+F and choose Settings.
Click Show advanced settings at the bottom of the page.
Scroll down and click Reset settings bottom.
Press Reset.
Mozilla Firefox
Press Alt+H and go to Troubleshooting Information.
Click Refresh Firefox. In the pop-up, click Refresh Firefox.
Click Finish.
In non-techie terms:
Foryourweb.net is an intrusive browser hijacker that silently alters your browser settings to set itself as your home page. It also makes sure that you cannot easily restore your home page as it makes changes to the Target lines of your browsers. This hijacker may enter your computer along with other malware infections, which may put your system's security at risk. You need to remove Foryourweb.net and all other related malware applications if you want restore the security of your computer. We believe that the best for you is to install a trustworthy antimalware program that can automatically handle all security-related issues and safeguard your PC from future attacks.