Do you know what ForTheSchools is?
ForTheSchools is an unreliable browser extension that promises automatic cash back and coupons in over 1400 stores when you are shopping online; however, our researchers have found that this application is a simple ad-supported program. As adware, this program has only one goal, and that is to generate traffic to affiliated third-party websites. Therefore, you cannot really trust its coupons or whatever pop-up ads it displays on your computer screen. Many users make the mistake of not taking adware seriously. You need to know that there are consequences if you leave such a malware infection on your computer. The worst is definitely the fact that you could be introduced to questionable third-party content. Landing on unreliable websites rarely ends well for inexperienced users. If you would like to learn about the dangers and potential risks you are taking by having this adware on your system, please continue reading. You will see soon that there is nothing else you can do but remove ForTheSchools if you intend to protect your computer.
You can find the official website at fortheschools.com where you can also install this extension directly. However, you should read the confirmation pop-up carefully before you rush to click "Add extension." It is important to know what kind of changes this extension will be allowed to make as soon as you add it to your browser. This is what this application can do: "read and change all your data on the websites you visit" and "read your browsing history." So only when you feel totally comfortable with these should you install such an extension. But, as a matter of fact, we are confident that this is not the only way you can get hold of this adware.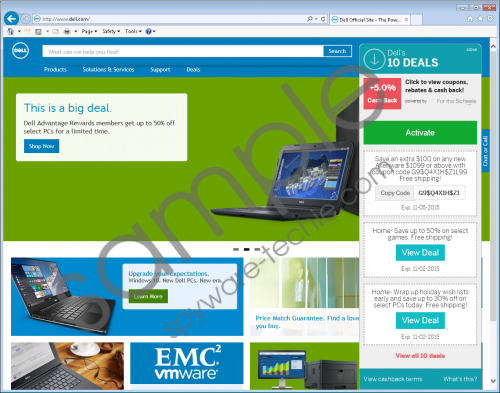 ForTheSchools screenshot
Scroll down for full removal instructions
It is more likely that it arrives in a freeware bundle onto your computer. Most users seem to find this useless application on their systems after visiting suspicious file-sharing websites. You may have noticed that these sites are full of third-party advertising. A lot of times these ads are even disguised as buttons, such as download and next-page buttons. Clicking on these misleading ads or links can easily result in downloading a whole bundle of malware programs. You may not even realize this until later when you have already installed the package. It is hard not to notice the presence of the most common infections because they will reveal themselves, for example, as third-party ads, which pop-up everywhere you go on the web, or as a new homepage you may find in your browsers, etc. In such a situation you should delete ForTheSchools first and then, right away, run a full system scan in order to determine how many other infections are threatening your computer. Leaving those on board could lead to more security issues or worse, a crippled operating system.
ForTheSchools is supposed to show you cash back and coupon type of ads, but it seems that it mainly displays potentially unreliable third-party ads that may put your virtual security at risk if you happen to click on them. You should never trust such ads because you cannot truly know who are behind them. It might be a cyber-criminal gang who wants to get hold of your personal and banking details, or steal information by accessing your computer. If you want to save yourself from future headaches, you should definitely remove ForTheSchools ASAP.
Finally, let us provide you with the solution so that you can protect your PC. First, you should uninstall this adware application via Control Panel. If you are unfamiliar with this, please use our instructions below. Second, you should think about a way to safeguard your computer from similar and worse attacks. One thing you can do to help protect your PC is to make sure you do not visit shady websites and you do not click on third-party ads. You should also keep all your software up-to-date to decrease the risk of exploitation by criminals. However, the most effective way is installing a reputable antimalware application that will provide full-time protection against all known threats.
Remove ForTheSchools from Windows
Windows XP
Click Start and go to Control Panel.
Open Add or Remove Programs.
Click on the application and press Remove.
Windows Vista & Windows 7
Open the Start menu and go to Control Panel.
Click Uninstall a program.
Select the application and press Uninstall.
Windows 8 & Windows 8.1
Tap Win+I and open Control Panel.
Select Uninstall a program.
Click on the application and press Uninstall.
Windows 10
Tap Win+X and choose Programs and Features.
Click on the application and press Uninstall.
In non-techie terms:
ForTheSchools is an ad-supported program that is not only unreliable and useless, but it is also a potential threat source to your system health and security. It may display questionable third-party ads you should never click on. This adware may also come on board in the company of other malware infections. Therefore, its presence may be a multiple security threat. We suggest that you remove ForTheSchools as soon as possible together with the other potential threats present on your computer. It is best to use a professional malware remover if you want to make sure that your PC is all secure.