Do you know what ForceLocker Ransomware is?
ForceLocker Ransomware is a new variant of ShellLocker, a ransomware infection detected by our specialists some time ago, so it is not surprising that it shares similarities with the original version of ShellLocker. It also locks users' files and then demands a ransom. Its behavior is almost the same, but unlike ShellLocker, it opens a ransom note which contains a message only in Russian, which suggests that the target audience is Russian computer users. Of course, it does not mean that users who do not speak Russian and live on the other side of the world cannot encounter this infection. Are you reading this article because you have already discovered this ransomware infection on your system? If it is exactly why you have opened this report, we have only one piece of advice for you – delete ForceLocker Ransomware from your system as soon as possible. You must erase this ransomware infection from your computer as soon as possible to remove the screen-locking window it has opened on Desktop and use the computer normally again. Also, you will be sure that it cannot lock your files again or help other malicious applications to enter your computer. Let's first find how it acts on victims' computers and then we will talk about the removal of this infection in detail.
Although ransomware infections are among malware that enters computers illegally, it does not take long to realize that a crypto-threat has successfully entered the system because it locks users' files immediately after the successful entrance. In the case of ForceLocker Ransomware, it also opens a window which locks the screen after appending .L0cked to users' pictures, documents, videos, and other files, i.e. after encrypting them. The names of these files are changed to random alphanumeric characters too, so it is impossible not to notice that something is wrong. The ransom note left for users after the encryption of files only tells them that their files have been locked with the encryption algorithm AES-256 and it is necessary to have a unique key to unlock them. Additionally, an email address 5quish@mail.ru is left for them. If you are not going to pay money to cyber criminals to get the decryption key, do not even bother writing this email because there is no doubt that you will be asked to send a certain amount of money to them in exchange for the decryption key. It does not mean that you could not restore your files without it. There is one way to get files back for free – you can recover them from a backup. Of course, it is only possible to do that if you have it.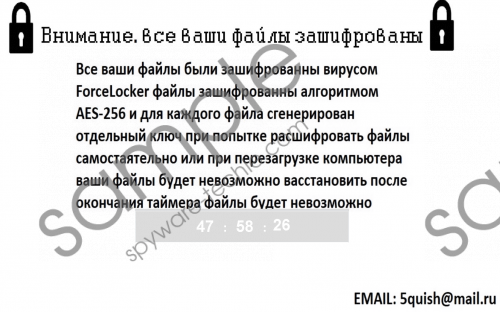 ForceLocker Ransomware screenshot
Scroll down for full removal instructions
Not much we can tell you about the distribution of ForceLocker Ransomware, but our specialists suspect that standard distribution methods are used to spread it. That is, it should be spread in spam emails as an attachment, according to them. Instead of an attachment, users might find a link in a received email and allow this ransomware infection to enter their PCs by clicking on it. It is one of the most popular methods to spread ransomware, but we are sure that it is only one of several methods cyber criminals can employ. As has been mentioned, it is impossible not to notice the entrance of this ransomware because a window will be placed over your Desktop and you could no longer open a bunch of your files. Also, you could find a new file svchost.exe dropped in %APPDATA%\Microsoft\Windows\Start Menu\Programs\Startup. Luckily, it is not among those ransomware infections which make important changes in the system registry, so the hardest part of its removal will be booting into Safe Mode.
We know that the majority of users reading this article are looking for more information about the ForceLocker Ransomware removal, so we have asked our experienced specialists to prepare the manual removal guide. You can find it below this article; however, if you are looking for an easier solution to this problem, you can go to delete it automatically too. You only need to acquire a reputable scanner.
How to remove ForceLocker Ransomware
Boot into Safe Mode
Windows XP/Vista/7
Turn on/restart your computer and start tapping F8.
After displaying hardware information and running the memory test, the Advanced Boot Options menu will appear.
Select Safe Mode using arrow keys and press Enter.
Go to remove the ransomware infection.
Windows 8/8.1
Press the Windows key + C and click Settings.
Click Power and press the Shift key.
Hold it and click Restart.
Click Troubleshoot and select Advanced options.
Click Startup Settings.
Click Restart.
Press F4 on your keyboard.
Erase malware.
Windows 10
Click on the Windows button (bottom-left corner) and select Power.
Click Restart while holding the Shift key on your keyboard.
Click Troubleshoot and select Advanced options.
Click Startup Settings.
Click on the Restart button.
Press F4 to boot into Safe Mode.
Delete ForceLocker Ransomware.
Delete ForceLocker Ransomware
Open the Windows Explorer after booting into Safe Mode.
Type %APPDATA%\Microsoft\Windows\Start Menu\Programs\Startup in the address bar and press Enter to open this directory.
Delete svchost.exe.
Remove all recently downloaded suspicious files.
In non-techie terms:
ForceLocker Ransomware does not enter users' PCs with good intentions. The only goal it has is obtaining money from users. Do not send money to the developer of this infection even if you have found your files encrypted and need to decrypt them badly because the key might not be given to you. All ransomware infections seek to obtain money from users, so we highly recommend installing an automatic antimalware scanner to make sure that a similar nasty threat cannot enter the system in the future.