Do you know what FLV Player Virus is?
FLV Player Virus is a term that is used to refer to the media player FLV Player. This application is not a computer infection, but for some reason, computer users believe that it is associated with computer infections. FLV Player is a product of Somoto and is available on different websites, including software.filesfrog.com and softigloo.com. It has been discovered that FLV Player is promoted by pop-up advertisements which are generated by adware programs. It is worth checking the settings of the browsers, because there are many adware programs that are installed as browser plug-ins.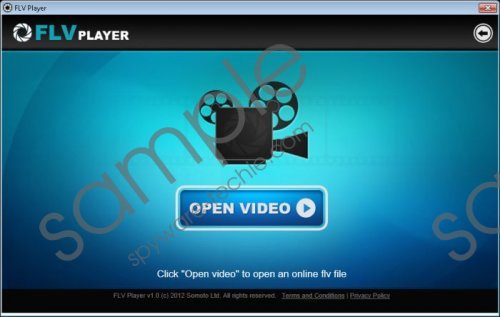 FLV Player Virus screenshot
Scroll down for full removal instructions
In case your computer contains adware, you are likely to receive some other advertisements. You may be invited to scan the computer, play online games, read various articles, visit commercial websites, etc. Not all the pop-ups displays by adware programs are associated with unreliable programs, but online security should be one of your priorities; hence, do not hesitate to scan the computer using a reliable scanner.
FLV Player is a free application which starts running every time you log on to the computer. Unlike some system optimization programs, FLV Player does not use a lot of computer resources. During the analysis of the application, it has been observed that the CPU usage barely rises up to 1 percent. In order to help computer users access FLV Player faster, the icon of FLV Player is added to the taskbar.
The FLV Player Virus can be bundled with numerous unreliable computer programs, including YouTube Accelerator, Shopper Pro, and iWeber. These programs are regarded as adware applications because they provide computer users with irrelevant web banners, pop-ups, and coupons. If you have installed these applications, it is advisable to remove them because adware programs do not endorse their sponsors and do not accept responsibility of the content that you are provided with.
As has been mentioned above, the so-called FLV Player Virus is not a computer infection, but it is flagged by various computer security programs. If you find that your spyware and malware prevention tool is not capable of removing the FLV Player Virus, we recommend that you install SpyHunter. This real-time security program can easily eliminate the unwanted application and, most important, shield the system from various computer threats.
How to remove FLV Player Virus
Windows 8
Press Win+R and enter control panel.
Click OK.
Click Uninstall a program.
Launch the uninstaller of FLV Player.
Windows XP
Click Start.
Select Control Panel.
Click Add or Remove Programs.
Uninstall FLV Player.
Windows Vista and Windows 7
Click Start.
Select Control Panel and click Add or Remove Programs.
Uninstall the unwanted application.
In non-techie terms:
The FLV Player Virus is a media player which can be installed onto your computer from various sources. If you do not want to use this application, remove it from the PC. Do not forget to remove adware programs if any have been installed alongside FLV Player.