Do you know what Fluey.com is?
Fluey.com is a suspicious blog-like search engine that can appear in your browsers if your computer has been infiltrated and infected by a browser hijacker, such as by Searchinterneat-a.akamaihd.net. This is not the first such search engine; as a matter of fact, we have seen a very similar one lately called Volunteercentre.org. If you find yourself on this seemingly flu-related blog-looking search site, it is quite possible that your computer is under attack by a couple of malware infections, starting with the browser hijacker that promotes this unreliable search engine. It is possible that you have noticed that your Internet connection speed keeps slowing down or the overall system performance is not satisfactory enough. You may also have seen annoying third-party ads while browsing the web, not to mention some apparent browser setting changes (home page, search engine). These are all clear signs of the presence of malware infections. Do not think for a second that if you remove Fluey.com alone, your computer will recover from this vulnerable state. According to our researchers, it is important to eliminate all possibly risky applications on your system if you want to use a safe PC.
In order for this search engine page to show up on your computer and in your browsers, first, you need to infect your computer with Searchinterneat-a.akamaihd.net browser hijacker. Our researchers have found that this hijacker is responsible for the promotion of this bad search engine. This hijacker usually spreads over the web in freeware bundles. It has also been discovered that these bundles contain a number of threats, such as Results Hub, Search Protect, and Shopperz. These are mainly adware programs that can display potentially harmful third-party ads in your browsers. Infecting your computer with such a bunch of threats could cause serious system security issues, not to mention that these can also affect your system performance. That is why it is important for you to know how you can download such a bundle.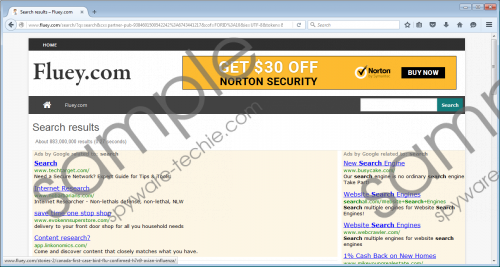 Fluey.com screenshot
Scroll down for full removal instructions
Most computer users encounter such malicious software packages when they are looking for free products, such as movies and software, and end up on unfamiliar and suspicious file-sharing websites. These pages are often full of dangerous third-party ads that do not even always look like advertisements. Some of them can disguise themselves and pretend to be buttons, links, system error messages, and anything that could draw the unsuspecting user's attention. These are rather deceptive techniques to make sure that you click on them. However, one click and you may let a whole package of threats onto your machine. It is quite likely that this is how Fluey.com appeared in your browsers, too. Therefore, we advise you to be very careful and leave no infection on your PC. First, delete Fluey.com and then, take care of all the rest. Only this can restore order on your system.
When you end up on this questionable search engine, you will not find any legal documents, such as an EULA or Privacy Policy. This is rather suspicious and makes you wonder. And this only becomes worse, when you learn that this domain is registered by "Domains By Proxy, LLC," which means that whoever is the owner of this website, he surely does not want to have any ties to it. Our researchers say that Searchinterneat-a.akamaihd.net browser hijacker redirects its searches based on the users' location. Fluey.com seems to be targeting Poland, Algeria, Pakistan, Egypt, Nigeria, and some other smaller countries.
This search engine page is unlike other search engines because it poses as a useful blog on flu, mostly promoting anti-flu shots. However, this page may host third-party advertisements, which could be risky to click on. Apart from those, we do not recommend the use of the search tool either. This search tool redirects you to a customized and possibly modified Google search results page. This search engine may integrate affiliated third-party ads and sponsored links, which you may not be able to distinguish from normal and legitimate results. Clicking on unreliable content can take you to malicious websites, and that may have sad consequences. If you do not remove Fluey.com now, you may infect your computer with more malware programs or worse, you may be scammed by cyber criminals.
In order to eliminate this search engine, you should also take care of the adware applications that came together with it. Once you uninstall these threats through Control Panel, you can reset your browser to make all the malicious changes go away. We have included the necessary steps below if you need help with these. If you do not want such infections to enter your computer again, you should think about installing a powerful anti-malware application to protect your PC. But even if you have a security tool on board, you should make sure that you regularly update all your programs and drivers as well.
Remove Adware from Windows
Windows XP
Click Start and go to Control Panel.
Access Add or Remove Programs.
Select the unwanted program and press Remove.
Windows Vista/Windows 7
Tap Win+R and type in Control Panel. Press OK.
Open Uninstall a program.
Select the unwanted program and press Uninstall.
Windows 8/Windows 8.1/Windows 10
Tap Win+X and open Programs and Features.
Select the unwanted program and press Uninstall.
Reset your browsers
Mozilla Firefox
Tap Alt+H and select Troubleshooting Information.
Click Refresh Firefox.
Click Refresh Firefox again and press Finish.
Google Chrome
Tap Alt+F and select Settings.
Click Show advanced settings at the bottom.
Scroll down and press Reset settings.
Press Reset in the pop-up window.
Internet Explorer
Tap Alt+T and select Internet Options.
On the Advanced tab, press Reset.
Select the Delete personal settings checkbox and click Reset.
Press Close.
In non-techie terms:
Fluey.com is a questionable search engine whose site looks like a flu-related useful blog. This search engine is mainly promoted by a browser hijacker called Searchinterneat-a.akamaihd.net. So when you see this search engine in your browsers, you should be alarmed because there may be several more malware infections on board. This unreliable search engine may also expose you to unsafe third-party content through its manipulated search results. All in all, your privacy and your computer are not safe if this search engine and all the related malware programs are on your system. Therefore, we suggest that you remove Fluey.com and every other potentially risky application in order to clean up your computer. If you want an effective way to do so, you should install a reliable malware remover that will also safeguard your PC from further malicious attacks.