Do you know what Flowsurf.net/search.php is?
If you are a Mozilla Firefox user who found that his or her homepage mysteriously changed to Flowsurf.net/search.php, you've come to the right place, as we will explain what happened and how to fix it. While Google Chrome and Internet Explorer users are safe for now, it's quite likely that the information provided in this article will come in handy once Flowsurf.net/search.php undergoes the upgrade that was announced on its website.
Flowsurf.net/search.php is the website linked to the FlowSurf browser hijacker. Once on your system, it adds a browser extension and messes up your browser settings. While we already stated that your homepage will be changed to Flowsurf.net/search.php once infected, this is not all that happens. You will also get a new default search engine, called FlowSearch. Any search performed using it will redirect you to search results on Flowsurf.net/search.php.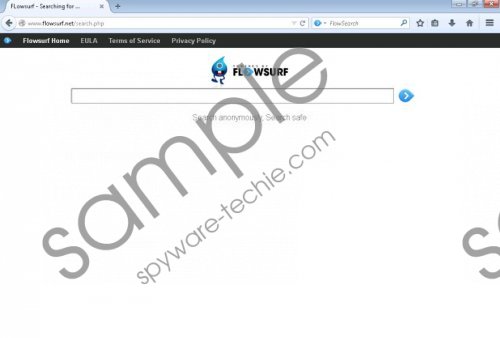 Flowsurf.net/search.php screenshot
Scroll down for full removal instructions
Flowsurf.net/search.php works as a search engine, so some computer users might not be overly concerned when the hijacker activates. This is a mistake. Our biggest concern is the sponsored links that this tool provides. While we realize that all search websites show results that are paid for, the reputable ones make it clear which links are regular and which ones are sponsored. Flowsurf.net/search.php does not.
While this might not look that problematic, the truth is that you can never be sure whether these sponsored results contain threats to your system. You could be tricked into downloading annoying adware or even dangerous threats once redirected to these web pages. This is technically not the fault of Flowsurf.net/search.php developers, because they disclaim any responsibility for the contents of its sponsored results' websites. The problem is that Flowsurf.net/search.php doesn't give you any means to differentiate sponsored results from legitimate ones. You should get rid of the hijacker and reset your browser settings to continue using your favored tools freely.
The FlowSurf hijacker is known to be distributed in bundles containing adware and other kinds of software that aren't entirely welcome on your computer, such as Conduit Search Protect, Bubbledock, and Awesomehp, among others. This doesn't inspire confidence. It's not hard to see why it's a very good idea to uninstall FlowSurf and get rid of Flowsurf.net/search.php. Fortunately, we're going to discuss how to do just that below.
The best way to remove all traces of Flowsurf.net/search.php from your browser is to download a professional computer protection tool. These tools can scan your system, find all threats and delete them completely with minimal effort on your part. If you aren't prepared to invest in your system's security, you can purge Flowsurf.net/search.php by hand. Follow the instructions below.
Flowsurf.net/search.php Removal
Mozilla Firefox
Press Ctrl+Shift+A and go to Extensions.
Select and Remove Flowsurf.
Press Alt+H.
Go to Troubleshooting information and click Reset Firefox.
Click Finish when it's done.
Google Chrome
Enter chrome://extensions into your address bar.
Press Enter and look for FlowSurf in your extensions list.
Click the trash bin next to it if you find FlowSurf.
Confirm by clicking Remove.
Enter chrome://settings and press Enter.
Click Show advanced settings.
Click Reset settings and confirm by clicking Reset again.
Internet Explorer
Press Alt+T, then go to Manage add-ons.
Look for Flowsurf in Toolbars and Extensions.
If you find it, select it and click Disable.
Press Alt+T.
Go to Internet options and click on the Advanced tab.
Find the Reset Internet Explorer settings section and click Reset.
Check Delete personal settings box and click Reset.
In non-techie terms:
Flowsurf.net/search.php is the website that is set as your homepage when your Mozilla Firefox browser gets hijacked by FlowSurf. It's also the page that shows any search results presented by FlowSearch, which is forcibly selected as your default search engine upon infection. We believe that it's best to remove any traces of Flowsurf.net/search.php from your system, because the search results returned by this tool cannot be trusted.