Do you know what Flipora Hijacker is?
Flipora Hijacker refers to a website flipora.com which can become your home page after clicking on suspicious advertisements while browsing the internet or once you launch the installer of the add-on of Flipora. The plug-in is said to help you access websites which are visited by your Facebook friends or other people who may have interests similar to yours.
Flipora Hijacker changes your home page after you log in to Flipora via email or Facebook and download Flipora add-on. Consequently, instead of your home page you will have static.flopora.com which will provide you with suspicious search results and advertisements. Below the address box of the browser you will find that some additional buttons are installed. For example, if you click on Web History on your Internet Explorer, you will be directed to feedshare.flipora.com where you will be able to look at the website you have browsed. You will see that Flipora automatically saves the web pages you are interested in. When you click on the button which is next to Web History, you will access the same feedshare.flipora.com where different websites selected by your friends are presented. At the top of the page you will see what other people on Facebook like, and this is how you are supposed to have fun on the Internet.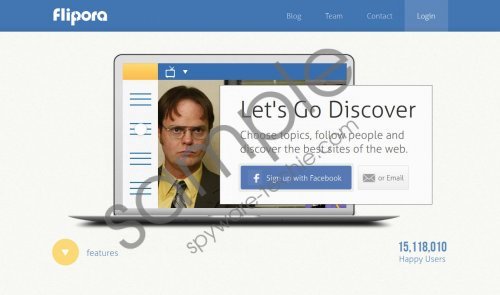 Flipora Hijacker screenshot
Scroll down for full removal instructions
If Flipora Hijacker gets on your Mozilla Firefox and Google Chrome, you will find a small button with a letter "f". The button is installed to help you quickly access feedshare.flipora.com.
As for the search engine, or Flipora Hijacker, you will find that it serves advertisements above your search results and on the right side of the browser. The engine is said to be powered by Google but that does not mean that you can use that search engine safely.
With the help of the browser helper object, the hijacker will monitor what you are interested in and in return may display advertisements related to your search query. If you do not want to be provided with or redirected to insecure website, we recommend that you remove Flipora Hijacker from your browser.
Below you will find step-by-step instructions which will help you change the settings of Internet Explorer, Google Chrome and Mozilla Firefox. Nevertheless, the manual alteration may be insufficient to get rid of Flipora Hijacker as the computer may be affected by threats which have entered the system surreptitiously. In order to examine the system, we recommend that you use our spyware removal tool.
Flipora Hijacker removal
Internet Explorer
Open the browser.
Press and hold down the Alt key and press T.
Select Manage Add-ons.
Click on Toolbars and Extensions.
Disable Flip BHO or Flipora Sidebar.
Press Alt+T.
Click Internet Options.
Change the home page under the General tab.
Press Apply.
Mozilla Firefox
Open the browser.
Press and hold down the Ctrl key, then press and hold the Shift key and hit A.
Click Extensions and remove Flipora.
Press Alt+T.
Click on Options.
Open the General tab.
Remove static.flipora.com and add a new home page.
Press OK.
Google Chrome
Open the browser.
Press and hold down the Alt key and press F.
Go to Tools.
Click on Extensions.
Remove Flipora.
Click on Settings.
Move to the On startup section and click on Set pages.
Remove static.flipora.com and add a new startup page.
Now you should scan the PC in order to make sure the PC is not affected by malware. Click on the download button to acquire our free scanner which will easily analyze the PC and present you with malicious system components.
In non-techie terms:
Flipora Hijacker is a browser add-on which changes your home page to static.flipora.com. Depending on the browser which is used to install the application, you may or may not be asked whether you want to change the settings of your browser. In order to delete Flipora Hijacker, follow the instructions given above.
Aliases: Flipora.com