Do you know what Flex PC Cleaner is?
Flex PC Cleaner cannot clean your computer. It cannot enhance the performance of your operating system either. The information on the official website is completely unreliable, and it was designed to lure you in. According to our research, this supposedly beneficial PC cleaner is just another ad-supported program that was created to promote questionable third-party services. HealthySure and LucidMovies are two of the many ad-supported programs that are identical to it. Were they created by the same company? That is unknown; however, it is possible. Whether or not they belong to the same developer, you should not trust any of them. On the contrary, we believe that these suspicious programs require immediate removal. Do you know how to delete Flex PC Cleaner? The good news is that it does not take much time or experience to successfully get rid of this adware. Before we discuss the process, read this article to learn more about the program itself.
Flexpccleaner.com is a website that promotes the installer of Flex PC Cleaner. Needless to say, this is the official source; however, other sources exist as well. Unfortunately, it is dangerous to install this adware regardless of which source you use. If you use the official installer, you might let in Adware.Search Know, Sweet-page.com, Yoursearching.com, PUP.System Healer, and other questionable programs. If you use third-party installers, you might let in clandestine Trojans, keyloggers, and other malicious infections. If you are yet to install this adware, we strongly recommend against it because of all other threats that could attack your operating system. If you have already installed it onto your computer, it is most likely that you have already encountered various suspicious advertisements. As mentioned previously, the original promises to clean your PC are used to lure you in, and, once installed, Flex PC Cleaner is all about showing ads. You will see ads within the main window of the program – which is launched using the FlexPC shortcut – as well as Internet Explorer windows. The IE ads show up randomly, and they promote different kinds of offers, some of which are not to be trusted.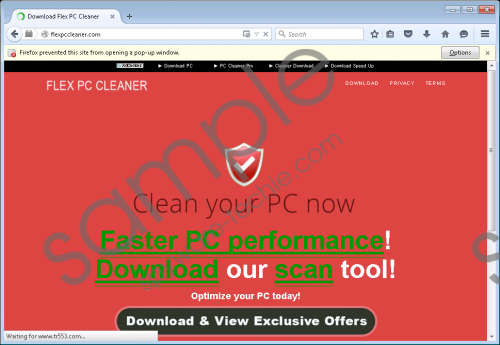 Flex PC Cleaner screenshot
Scroll down for full removal instructions
When you launch Flex PC Cleaner, you will be introduced to information that you can find on quickheal.com. You might be introduced to different websites; however, at the moment, this adware mainly promotes the Quick Heal Online Scan. Even if this adware introduces you to reliable services, we do not recommend interacting with the content it promotes. You do not know what kind of information might be collected about you, and you do not know whether or not the services promoted are authentic and trustworthy. The Privacy Policy reveals that personal information – as well as non-personally identifiable information – can be collected and, most importantly, shared with third parties. Obviously, it is dangerous to have information about you collected by unpredictable software and then shared with completely unfamiliar parties. Unfortunately, this loophole could be used by schemers to scam you, and you can prevent this from happening only by eliminating the unreliable adware.
We can show you how to remove Flex PC Cleaner from your Windows operating system manually, but we cannot provide you with instructions that would help you eliminate the remaining computer infections since every user might face different threats. Of course, if you cannot eliminate malware manually, a reliable anti-malware comes in handy. Make sure you implement a reliable anti-malware tool; otherwise, you might encounter even more virtual security issues.
Delete Flex PC Cleaner from Windows
Windows 10/Windows 8.1/Windows 8
Tap Win+R keys (simultaneously) to launch the RUN dialog box.
Enter control panel into the box and click OK to open the menu.
Uninstall a program (in the Programs or Programs and Features menu).
Right-click the undesirable program and click Uninstall.
Windows 7/Windows Vista
Click the Windows/Start menu button on the left of the Taskbar.
Open the Control Panel menu and move to the Programs menu.
Click Uninstall a program and find the undesirable program.
Right-click unwanted adware and click the Uninstall button.
Windows XP
Move to the Taskbar and click Start menu button.
Open Control Panel and double-click Add or Remove Programs.
Select the undesirable program and click the Remove button.
Eliminate leftovers
Open Explorer by tapping Win+E keys simultaneously.
Type HKCU\Software\Microsoft\Internet Explorer\DOMStorage\ into the address bar and tap Enter.
Right-click and Delete these folders: flexpccleaner.com and www.flexpccleaner.com.
In non-techie terms:
Needless to say, removing Flex PC Cleaner is a smart move. This advertising-supported program is not beneficial in any way, and you would be wasting your time and jeopardizing your virtual security by trusting it. After doing a few tests in our internal lab, it was found that this adware usually enters operating systems along with other suspicious, often unreliable programs. Needless to say, we advise deleting them all. If you are not confident about your own removal skills, trust anti-malware software to eliminate all computer threats automatically. If you have questions about any of the processes, including further Windows protection, start a discussion in the comments section down below.