Do you know what FlashCoupon is?
There is no doubt that FlashCoupon is an advertisement-supported program because right after its installation, the affected browsers are flooded with different type of online advertisements. In some cases, the application may even be installed without your notice or authorization, which values the activity of the program as illegal. You need to delete FlashCoupon to ensure that this illegal activity is terminated before any harm is done. According to our researchers, the application may be linked to unreliable data-tracking cookies, and it may promote corrupted links. The only secure way to disable this activity is to remove the active adware.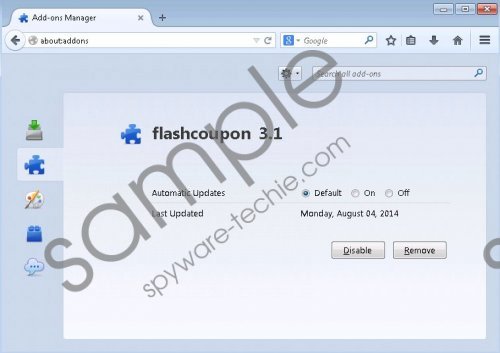 FlashCoupon screenshot
Scroll down for full removal instructions
FlashCoupon is an application which falls into the same category as FlexibleShopper, TicTacCoupon, CheapMe, and other recently reported advertisement-supported applications. What recent research has revealed is that these programs are created on the justplugit engine, and they usually are promoted using the unreliable InstalleRex installers. It is believed that this software has been created by the same company. Unfortunately, this means that FlashCoupon developers are only interested in creating more platforms for unreliable third-party advertisers. If they cared about the promoted services, they would create one strong, reputable application, and you would not need to remove tons of suspicious ads. Furthermore, authentic software is promoted officially, and flashcoupon.info does not provide an active installer. Due to all this, we suggest immediate FlashCoupon removal.
If you do not remove FlashCoupon, also known as FlaaashoCooupon or FlaeshCoupone, you will be bombarded by unreliable installers, surveys, prize-giveaways, and other questionable offers using alluring banner/pop-up/in-text ads. You have to remove these to ensure that unreliable offers are not presented to you every time you launch a browser, and to achieve this, you need to take care of FlashCoupon removal. Most computer users decide to delete the application using the guidance of manual removal instructions. Nonetheless, this is not what malware researchers recommend. Since additional malware may be active or may attack in the future, automatic malware removal software should be installed.
Delete FlashCoupon from Windows
Delete from Windows XP:
Open the Start menu and then click Control Panel.
Double-click Add or Remove Programs.
Identify the undesirable application and Remove it.
Delete from Windows Vista & Windows 7:
Click the Windows icon on the Task Bar and select Control Panel.
Now go to Uninstall a program and right-click the undesirable one.
Select Uninstall to remove the undesirable application.
Delete from Windows 8:
Right-click on the Metro UI menu screen and select All apps.
In the appeared menu click Control Panel and select Uninstall a program.
Now right-click FlashCoupon and select Uninstall to have it removed.
In non-techie terms:
FlashCoupon is a browser extension which malware researchers identify as adware. If you do not delete this ad-supported application, you will face sponsored links, unreliable offers, and possibly links to corrupted, unreliable sites. This is the kind of activity you should not be associated with, and so we urge you to remove FlashCoupon from the PC as soon as possible. As mentioned already, the manual removal option is not always the most beneficial one, and so we recommend the installation of automatic malware removal software.