Do you know what FitnessLance is?
If you are about to download and install a program that goes by the name of FitnessLance, you must be aware of the fact that it is just one more adware that you should not have active on your operating system at any time. Ignore tempting claims stating that this application could be used to get great tips in regards to fitness because they are a part of a manipulative technique that its developers use to lure unsuspecting Internet users into obtaining their invasive piece of software without understanding how it fully functions. Instead of being beneficial in any kind of way, this ad-supported application will ruin your overall online experience by causing numerous disruptions almost every single time you decide to surf the web. Additionally, it could turn out to be the reason your PC could get filled with other questionable applications; this is so because at times it could expose your computer to potentially malicious web content. If you consider yourself a security-conscious user, make sure to execute a complete removal of FitnessLance at the very same time that is found on your personal computer. You should use the removal guide created by our research team to delete this adware in a quick and easy way.
Once FitnessLance enters your operating system, it will spread itself in a form of files and registry entries all around your operating system. Along all of that, a background system service will be started that will employ all the intrusive content of this adware so it could function in the way it does. It is important to highlight the fact that the name of this suspicious system service is usually random; thus, you might have trouble while trying to identify it. This whole internal activity of this ad-supported program manifests within your web browser. If you happen to have this or any other adware application on your PC, you will notice a large number of dubious third-party web content while surfing the web whether you like it or not. In the majority of cases, all such content will come in forms of invasive ads, pop-ups, and questionable coupons. While they are mostly annoying it is important to note that some of them could turn out to be the reason, you might expose your PC to suspicious web content. As it happens to be some of the pop-ups amd ads presented by FitnessLance could be implemented with redirect links, meaning that by simply clicking on such an ad could result in a redirection. The potential danger is that it is impossible to determine where you could be taken to by clicking on such an ad or pop-up. Even though it is not an often instance, you could be taken to sites that host malicious software and just entering them is dangerous and could have unwanted outcomes, to say the least. Avoid everything that this ad-supported application provides as it is not only worthless but could turn out to be harmful. Make sure to delete it to regain the default functionality of your web browser; this way, you will not have to fear infecting your computer with some other dubious software and will be able surf the web the way you are used to.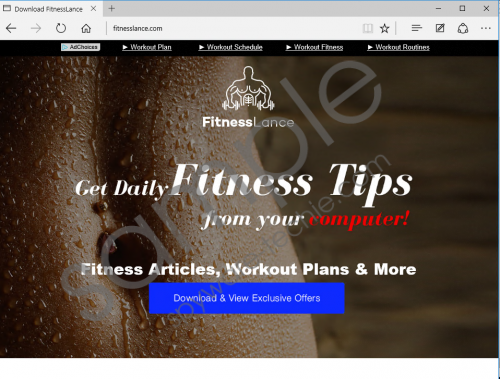 FitnessLance screenshot
Scroll down for full removal instructions
Since malware experts at Spyware-Techie.com have discovered that in a lot of cases this adware application is distributed via bundled installers, it is important to practice safe browsing habits to reduce the risk of infecting your computer in such a way. This means that you must avoid all third-party download websites as they are infamous for being the primary source of software bundles. We always advise users, who consciously wish to have their PC clean and secure, to acquire their software from official vendors' websites only because authorized installers to not tend to host questionable programs within them. Additionally, you must be aware of the misleading marketing strategies. Nowadays such practice is very common among developers of questionable applications. You should learn about the program that you wish to run on your operating system, before even downloading it. Along practicing such safe browsing habits, you should implement a professional malware detection and removal tool as it is capable of identifying any suspicious installers or websites and warning you about them in advance.
The removal procedure of FitnessLance should be executed without any hesitation as it holds no valuable features whatsoever. Fortunately, you can delete this suspicious piece of software via Control Panel. Once you are done with all the removal procedures you need to thoroughly check you operating system for potential leftovers associated with this adware program; this is paramount as you need to be sure that every single bit of FitnessLance has been removed from your PC. If even a few leftovers of this ad-supported program are still active on your computer, it might still be able to function in its invasive and potentially harmful way.
How to remove FitnessLance from your operating system
Windows 10
Type regedit into the search field and select it.
Select Control Panel and click Uninstall a program.
Select the FitnessLance and click the Uninstall button.
Windows 8 and 8.1
Right-click your Task Bar.
Select Control Panel and click Uninstall a program.
Right-click the unwanted program.
Select Uninstall.
Windows 7
Click the Windows button and select Control Panel.
Click Uninstall a program.
Double-click FitnessLance.
Confirm that you want to remove it.
Windows XP
Tap the Windows key on your keyboard.
Select Control Panel and click the Add or remove programs option.
Locate and select FitnessLance.
Click the Remove option.
In non-techie terms:
Do not take chances with FitnessLance as it is a major virtual threat. If you happen to find manual removal of this adware too complicated, you must follow the instructions that we provide below. By doing so you will be able to delete every single bit of it in an automatic way. The whole procedure is easy to execute and even users with no advanced computer knowledge will not encounter any problems.