Do you know what FirstOffer is?
Many people like to acquire goods at discount prices, and they are a target group of creators of FirstOffer. This application displays coupons offering deals while you look for products at the largest American shopping sites, including bestbuy.com and walmart.com. You will be offered the same goods you search for, but for a much better price. But do not fall for these promises. FirstOffer is just an adware program created to bring profit to its developers. You will receive no significant benefits by keeping it on your computer. On the contrary, by not removing this program you may even expose yourself to potential dangers.
There are several ways how this adware application enters your computer. It could be downloaded from the firstofferz.com website, from the Google Extensions Store, or received in a bundle with some freeware you have downloaded from the Internet. There is nothing suspicious with the first two ways, but we have to elaborate on the third one. Usually, people do not pay enough attention and are not sufficiently careful when they decide to download things from some unreliable file sharing websites. They opt for the standard installation mode thus allowing additional programs to enter their system. Some of these programs could be of a malicious character, and they should be eliminated together with FirstOffer.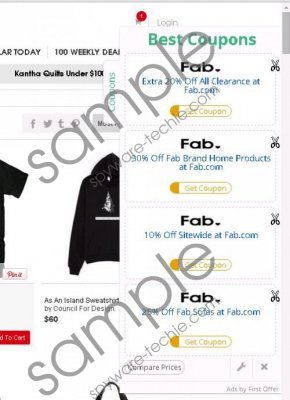 FirstOffer screenshot
Scroll down for full removal instructions
Why are we so strict regarding this adware application? Advertisements generated by FirstOffer may seem useful to you, but soon you will be annoyed by their presence. In addition, by clicking on them you may find yourself transferred to third party websites, and the application has absolutely no control over those pages. What FirstOffer can do is provide those third parties with information on you helping them to provide you with customized advertisements. It would be interesting for you to know that the adware program collects even your personally identifiable information, and we do not think it is acceptable that such information can be handed to unknown persons. Please note that if those third parties use your information for criminal purposes and organize a financial scam attack against you, FirstOffer carries no liability for any possible consequences. We think that no security-minded person would keep such a program on his system.
Luckily for the users of other popular browsers, at the moment FirstOffer only affects Google Chrome. The adware application creates an extension for the browser. So, to get rid of this program it is simply enough to remove the unwanted extension. Do not how to do it? Just follow our instructions and you will find this task a piece of cake. But do not forget that there may be other unwanted programs hiding somewhere in your system, and they need to be removed as well. The best you can do is purchase authentic security software and scan your system with it. All the intruders will come to the surface, and the antivirus tool will complete its job by eliminating them.
Removal of FirstOffer
Open the Google Chrome browser.
Simultaneously press Alt+F.
Click on Settings.
Go to Extensions.
Click the trash bin icon near the unwanted extension.
Click Remove.
In non-techie terms:
FirstOffer is an adware program that promises to boost your shopping experience. It shows you shopping offers and deals when you are looking for merchandise on the American shopping webpages. However, by clicking on those offers you may find yourself redirected to unreliable websites. Besides, the program spies on you by means of cookies and web beacons and even collects your personally identifiable information. Therefore, we recommend that you eliminate this program by following our guide.