Do you know what FineDEalSoft is?
There are plenty of adware programs being published nowadays and FineDEalSoft is one of them. However, you might come across the same program with a different name because it is known that it might change it. Thus, if you meet FineDEallsSoft or FineEEDealSioftt, you should know that it is the same advertising-supported application. It will not do anything good for you because its purpose is to display various advertisements and thus advertize particular products and services. You should not keep this application on your system for any longer because it will not do anything beneficial. If you are not sure how to remove FineDEalSoft from your system, we will help you to do that.
If you still cannot understand how FineDEalSoft entered your computer, you should know that plenty of programs are distributed rather unfairly nowadays. Some people say that it is a computer user's fault that many unfamiliar programs get on the system unnoticed. Of course, if you complete the setup wizard more carefully, you will definitely notice a message that other additional programs are going to be installed on the system in case you do not un-tick the box. As you can see, advanced installation might help you to avoid different applications, including FineDEalSoft.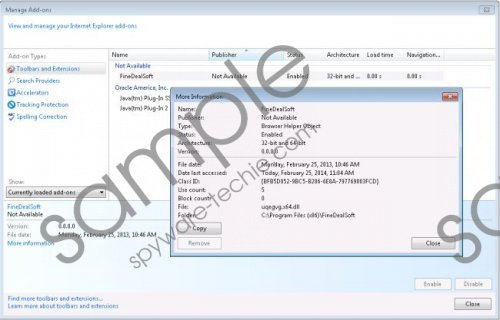 FineDEalSoft screenshot
Scroll down for full removal instructions
One of the main reasons why we do not recommend trusting FineDEalSoft is the fact that it just distributes different ads, but is not responsible for the content of the websites that you might visit if you click on any of those commercials. It means that you might infect your system without even noticing it. What is more, FineDEalSoft like other adware programs might collect information related to your browsing habits. Thus, you can expect that your search queries and your browsing history will be known for third parties as well. If you think that it is unacceptable, remove FineDEalSoft immediately.
The manual removal of FineDEalSoft will not be complicated at all, if you follow our instructions. Firstly, you will have to remove this application via Control Panel first and then disable the extension in Mozilla Firefox, if you are using it. If you decide to remove this adware manually, you should also scan your system with a reliable antimalware tool. You can download a free scanner which will detect all the existing threats for free. Click on the button below and the automatic download will start.
Remove FineDEalSoft
Windows XP
Open the Start menu.
Select Control Panel.
Click Add or Remove Programs.
Click on the useless application.
Select Remove.
Windows 7 and Vista
Click the Start button.
Select Control Panel.
Click Uninstall a program.
Right-click on FineDEalSoft and then click Uninstall.
Windows 8
Move the cursor to the lower-right part of the screen.
Select Settings.
Go to Control Panel.
Click Uninstall a program.
Remove the application by clicking Uninstall.
Mozilla Firefox
Launch your browser and then press Ctrl+Shift+A.
Select Extensions from the menu on the left.
Locate the extension that you want to remove and select it.
Click Disable.
In non-techie terms:
Typical adware programs like FineDealSoft are not going to do anything beneficial for your computer. These programs have only been created to generate advertisements and then distribute them on different websites. You will not be able to stop all those ads whenever you want to, which is why you should remove this application as soon as possible. If you do so, you will reduce the possibility to infect your system with malicious software. We believe that it is not worth keeping this software and risking to get infected.
Aliases: Fine Deal Soft.