Do you know what FindWide.com is?
If you have been redirected to FindWide.com, there is a possibility that your operating Windows system is infected with malware. Fortunately, the search engine itself does not raise any virtual risks, and many computer users may utilize it for authentic, reliable web searches. Then why do so many people with to remove FindWide.com, also known as FindWide Search? In reality, most users wish to remove a different search engine related to it – start.search.us.com. This is a search engine which may appear to hijack your home page and search provider settings. Our security experts have analyzed the potential threat and prepared the manual removal instructions which you could use to get rid of it.
Have you heard of FindWide.com toolbar? This plugin is available if you land on the search engine and click the About link at the bottom of the page. If you click the download button and rush through the installer without paying any attention – start.search.us.com will be set as the home page of your Google Chrome, Mozilla Firefox and Internet Explorer browsers. Contrary to the common belief, FindWide.com is not a browser hijacker because it cannot change browser settings without your notice. If you do not want to enable any changes make sure you un-check the boxes indicating that you agree with the mentioned modifications during the installation. Note that the toolbar can access data on the websites you visit, modify bookmarks, detect your location, record/modify search history and manage browser extensions. All of this is quite intrusive and so there is no wonder why many wish to delete FindWide.com toolbar.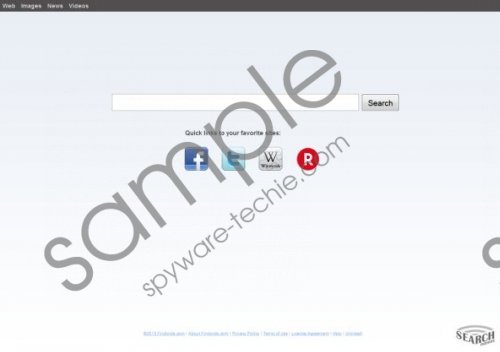 FindWide.com screenshot
Scroll down for full removal instructions
Do you know how to remove the undesirable toolbar? Do you know how to delete the undesirable search tools which have replaced your preferred ones? Fortunately, these tasks are not that complicated if you follow the steps presented by experienced security experts. Note that the guides below will not help you delete truly devious computer infections or ensure Windows protection, which is why you should always keep your PC guarded by up-to-date, automatic malware detection and removal software.
Delete FindWide.com Toolbar
Delete from Windows 8:
Right-click on the Metro UI start screen to open a new pane at the bottom.
Select All apps, click Control Panel and then go to Uninstall a program.
Right-click the undesirable application and select Uninstall.
Delete from Windows Vista and Windows 7:
Move to the left of the Task Bar and click Start.
Select Control Panel and click Uninstall a program.
Right-click the program you wish to remove and select Uninstall.
Delete from Windows XP:
Open the Start menu from the Task Bar and select Control Panel.
Double-click Add or Remove Programs.
Select the undesirable application and click Remove.
Remove FindWide.com search tools
Remove from Internet Explorer:
Launch IE, simultaneously tap Alt+T and select Internet Options.
Click the General tab and move to Home Page.
Now overwrite/remove the presented URL and click OK.
Tap Alt+T again and this time select Manage Add-ons.
Click Toolbar and Extensions.
Disable the undesirable extensions.
Click Search Providers.
Remove the undesirable search providers and click Close.
Remove from Mozilla Firefox:
Launch the browser and locate the search box on the right.
Click the icon and select Manage Search Engines.
Select the undesirable search provider and click Remove. Click OK.
Simultaneously tap Ctrl+Shift+A.
Go to Extensions and Remove the undesirable plugin.
Simultaneously tap keys Alt+T.
Select Options and click the General tab.
Change/delete the provided Home Page URL and click OK.
Remove from Google Chrome:
Open the browser and simultaneously tap Alt+F.
Select Settings and firstly navigate to On Startup.
Mark Open a specific page or set of pages and click Set pages.
Change/delete the displayed URL and click OK.
Go to Appearance, mark Show Home button, click Change and repeat step 4.
Move to Search and click Manage search engines.
Click X next to the URL of the undesirable search engine to remove it and click Done.
From the menu on the left select Extensions.
Click the recycle bin on the right of the unwanted toolbar and select Remove.
In non-techie terms:
FindWide.com, or search.findwide.com, is a search engine which is usually linked to the aforementioned toolbar, and we do not recommend running either of them. Even though both the search engine and the toolbar are not considered critically malicious, you need to limit the number of programs which can track your virtual activity. Use the removal instructions above to delete undesirable software.
Aliases: FindWide virus.