Do you know what FindsPro is?
FindsPro is an adware application based on the Widdit engine that promises to help you find the best deals online. Such programs make it seem as though they can assist you when you shop online. FindsPro says that you will be able to save a lot of money if you make use of this application. However, the reality is that this program is not as reliable as you might think, and if keeping the program on-board might eventually result in a severe malware infection. Therefore, you will do yourself a favor if you remove FindsPro from your computer immediately.
This adware program belongs to the group of those that have their official homepages. You can also access the page via findspro.com, but you will not find there anything, apart from a few promotional lines about how great this application is. "Don't just Search – Find!" it says.
At the first glance, the website may seem user-friendly and give the impression that FindsPro is a reliable application. However, if you were to go through the site thoroughly, you would see that it only presents you with generic information on the application, its privacy policy, and the EULA documents. The direct download link for the program is nowhere to find. Therefore, we can infer that FindsPro employs other means of distribution to travel around the web.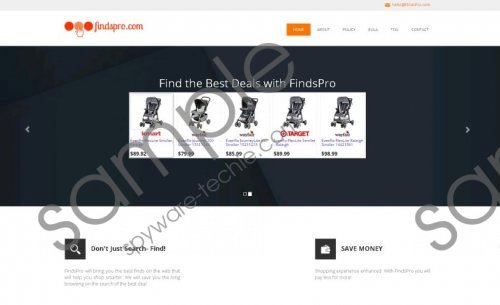 FindsPro screenshot
Scroll down for full removal instructions
To be honest, the main distribution method employed by adware programs is software bundling. This means that FindsPro almost comes in software packages that include at least more than one or two freeware applications. Users initiate the freeware download when they roam file-sharing websites. It might also be that the download has been initiated automatically when you triggered some pop-up or clicked an advertisement automatically. Either way, FindsPro would not be able to enter target systems if it were not for the user's consent. Therefore, to protect yourself from such potential threats, you have to employ safe web browsing habits.
Once this application enters your computer, FindsPro will be sure to install extensions to your default browser. The program affects Google Chrome, Mozilla Firefox, and Internet Explorer, so if this application enters your computer, it is very likely that your browser will be affected by it. What's more, our researchers say that FindsPro may have a service that hijacks your default homepage, by substituting it with some associated website. Needless to say, this is a kind of intrusive behavior you should not tolerate.
On top of that, FindsPro will also track your online activities to generate your online profile and then spam you with custom pop-up ads on shopping websites. These ads are there to help the associated parties make easy money. Make no mistake: FindsPro does not even want to provide you information on internet deals and special offers. It is all just an act to push you into clicking the ads.
Save yourself the trouble of dealing with potential computer security threats by removing FindsPro today. Uninstall the program via Control Panel and then scan your computer with the SpyHunter free scanner to determine whether you have more uninvited guests. If that is the case, terminate them all automatically.
How to Delete FindsPro
Windows 10
Right-click the Windows icon and click Control Panel.
Open Uninstall a program and remove FindsPro.
Windows 8 & Windows 8.1
Move the mouse cursor to the bottom right corner of your screen.
When the Charm bar appears, click Settings and go to Control Panel.
Open Uninstall a program and remove FindsPro.
Windows Vista & Windows 7
Open the Start menu and click Control Panel.
Go to Uninstall a program and remove FindsPro.
Windows XP
Click the Start button and navigate to Control Panel.
Select Add or remove programs and delete FindsPro.
In non-techie terms:
FindsPro is an annoying application that will not allow you to browse the web properly. It will spam you with pop-up advertisements that will slow down your browser and expose you to potentially harmful third-party content. You have to remove FindsPro from your computer and then make sure your system is absolutely safe and clean. Please follow the secondary set of software removal instructions below this description for an alternative method.