Do you know what Findmeta.com is?
If you ever stumble upon an application called Findmeta.com do not download it or install it under any circumstances. This is so because our malware researchers at our internal labs have dubbed this controversial program as a browser hijacker due to its invasive and at times even potentially malicious activity. Unfortunately, according to our reports a rather large amount of users already have this hijacker running on their operating system because vendors of it distribute it in suspicious and intrusive ways. If you are one of those users, you should not waste any time and conduct a thorough removal of Findmeta.com right now since it is the only way that you can regain the default settings of your web browser. The rest of this article includes further information about the dubious functionality of this hijacker and a complete removal guide that will help you delete it without encountering any major problems.
Almost right after entering your Findmeta.com will ruin your online experience. This is so because the intrusive browser hijacker will, without any notification, change your web browser's default settings. It, like most other hijackers of today, alters the default search engine and homepage. This happens regardless of whether you like it or not. Users are often unaware that the hijacker in question has entered their operating system since it is spread via bundled installers, meaning that it most likely was installed by you with some other program. The most annoying thing about this hijacker is that it forces users to use the newly appointed search engine and homepage; each and every web surfing session will begin on a suspicious third-party website, which you would normally never set as a default homepage. Unfortunately, these changes will continue to bother unless you conduct a complete removal of Findmeta.com. Make sure to delete every single bit of this hijacker to revert all the modification made to your web browser.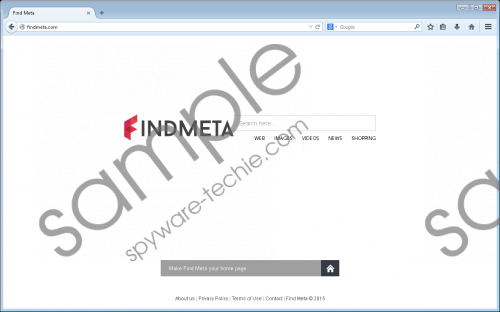 Findmeta.com screenshot
Scroll down for full removal instructions
Sadly, Findmeta.com will not only make your online experience annoying and frustrating. It has been found out that in some cases it could exhibit malicious features, which could lead to an infection of your operating system. As it turns out, you should not trust the newly appointed searcher engine under any circumstances because it might provide you with questionable search results. Some of them are just worthless as various third-parties sponsor them, but others could turn out to contain redirect links. This means that just by clicking on such a result could be enough to infect your operating system with some unknown malicious application as you could end up on a website that hosts and promotes malware. It should be more than obvious why the removal of Findmeta.com is essential. Do not hesitate and terminate this intrusive hijacker once and for all.
Do not delay the removal of Findmeta.com since you might face devastating outcomes to say the least. Make sure to follow the removal guide carefully and once you are finished with it, you should run an in-depth analysis of your operating system for potential traces related to Findmeta.com. This is essential because this way you will be sure that every single bit of this intrusive hijacker was removed successfully.
How to remove Findmeta.com from your web browser
Internet Explorer
Start your web browser and simultaneously tap Alt+T.
Select Internet Options and open the Advanced tab.
Click Reset and mark Delete personal settings.
Click Reset again.
Mozilla Firefox
Launch your browser and tap Alt+H.
Select Troubleshooting information and click Reset Firefox.
Click the Reset Firefox button again to confirm the process.
Google Chrome
Open your web browser.
Simultaneously tap Alt+F.
Select Settings and click Show advanced settings.
Click Reset browser settings and select Reset.
In non-techie terms:
Some users might not be very comfortable performing manual removal themselves as it involves making changes within the browser settings. If you happen to be one of those user, do not worry and just use the removal guide that we provide below. it will help you delete this malicious hijacker in an automatic way.