Do you know what FindMeFreebies Toolbar is?
FindMeFreebies Toolbar is a browser extension that is can be also classified as adware. This means that the application has several additional features that are not as useful as you might think. Computer security experts recommend that you remove FindMeFreebies Toolbar from your system as soon as possible because this program could be associated with potentially harmful cyber activities. We provide manual removal guide below this description, but if you feel that your computer needs to be protected against similar intruders, you should seriously consider investing in a licensed antispyware tool. Only an automated computer security application will ensure that your PC is protected 24/7.
Technically, there is nothing new about FindMeFreebies Toolbar because we have dealt with similar infections multiple times before. It comes from the MindSpark family of potentially unwanted applications, and the program is practically identical to BigGameCountdown Toolbar, EmailFanatic Toolbar, BestBackground Toolbar, and so on. The list goes on and on because it is virtually endless. These programs have been bothering computer users worldwide for quite some time now, but we cannot say they are malicious infections because they DO ask your permission to be installed on the PC.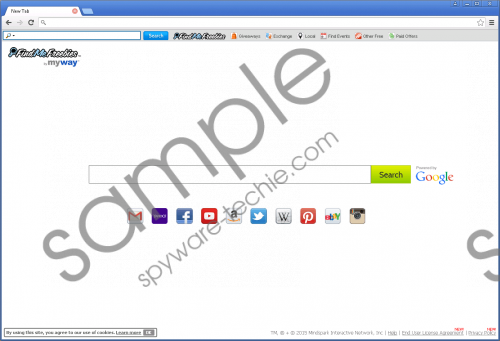 FindMeFreebies Toolbar screenshot
Scroll down for full removal instructions
What's more, FindMeFreebies Toolbar can also be downloaded from findmefreebies.com. If we take a closer look at the website, we might think that this application is a useful tool that will enhance your web browsing experience. The application is promoted as "your #1 source for FREE products, services and samples." It says that with this toolbar installed on your browser, you can "find 1000s of free products, samples, downloadable books and music, coupons and giveaways." There are several other features of this program that are covered in the website, but overall, if we were to take into consideration what the official website says, we might get the impression that FindMeFreebies Toolbar will make our lives easier.
Unfortunately, that is only one side of the coin. Although FindMeFreebies Toolbar has an official website, it is far more common for the application to get around distributed with freeware. It may come bundled with some freeware program you have recently downloaded from a file-sharing website. If you are not attentive during the freeware installation, FindMeFreebies Toolbar may get installed on your PC along with all the other programs, and after a while, you will be surprised to see this unfamiliar app on your browser.
What's more, if you install the full version of this application, your default homepage and search engine will be modified as well. That is why sometimes users think that FindMeFreebies Toolbar is a browser hijacker, but that is not true because you allow for the modification to take place, even if you are not aware of that.
Although FindMeFreebies Toolbar is not a severe computer security threat, it is an annoying application that is associated with various security issues, so it should not be allowed to remain on your PC. Please uninstall FindMeFreebies Toolbar right now, and then scan your PC with the SpyHunter free scanner. You need to make sure that all the other related files and applications get removed from your system as well. Do all you can to protect your PC from malicious exploitation.
How to Remove FindMeFreebies Toolbar
Windows 8 & Windows 8.1
Move the mouse cursor to the bottom right corner of your desktop.
Click Settings on the Charm bar and go to Control Panel.
Select Uninstall a program and remove FindMeFreebies Toolbar.
Windows Vista & Windows 7
Open the Start menu button and navigate to Control Panel.
Go to Uninstall a program and remove FindMeFreebies Toolbar.
Windows XP
Click the Start menu and select Settings.
Click Control Panel and access Add or remove programs.
Uninstall FindMeFreebies Toolbar.
Modify Your Browser Settings
Internet Explorer
Press Alt+T and go to Internet options.
Change your homepage address under the General tab and press OK.
Press Alt+T once more and open Manage add-ons.
Select Search providers.
Choose a new default search engine, remove Ask Search and press Close.
Mozilla Firefox
Press Alt+T and select Options.
Change your homepage address under the General tab and click OK.
Click Search on the left pane.
Choose a new default search engine and remove Ask.com from the list.
Press Alt+T again and click Add-ons.
Disable and remove FindMeFreebies from Extensions.
Restart your browser for the changes to take effect.
Google Chrome
Press Alt+F and click More tools.
Go to Extensions and remove FindMeFreebies.
Click Settings on the left pane.
Select the Open a specific page or set of pages option under On Startup.
Click Set pages and change your startup page address. Press OK.
Click the Manage search engines button under Search.
Set a new default search engine, delete Ask Search and click Done.
In non-techie terms:
Sometimes programs like FindMeFreebies Toolbar can cause a lot of damage if users keep them on their computers. This application is not a malicious virus, but it is too vulnerable to be useful. FindMeFreebies Toolbar could be always exploited by cyber criminals to collect information about you, or to redirect you to unfamiliar and potentially harmful websites. You will do yourself a favor if you remove FindMeFreebies Toolbar immediately.