Do you know what Findizer is?
Findizer is an extension that is meant to help you save the products you are interested in using the same tool. If you are an avid online shopper, you must have shopping lists and wish lists full of different products that you are either saving money for or that you expect to go on sale. In this case, the suspicious extension seems to offer a better, more efficient way to track all of the desired products. The information on the official website, findizer.fr, suggests that this extension can simplify your shopping experience, and we are sure that some users will be attracted by this promise. When you download the app, you are redirected to a sign-up page asking to log in with your Facebook account or via email. This extension can be activated on Firefox, Chrome, and Internet Explorer web browsers, and we suggest removing Findizer from all of them. Keep reading to learn why deleting this add-on is what we recommend.
Findizer.fr is not the only source representing this suspicious extension. Chrome users can acquire it from chrome.google.com/webstore/detail/application-findizer/apbbnlboenllhnddfpokmeeiinhhhmmc, and it is possible that third-party installers will be employed for the distribution of this adware as well. If you encounter third-party installers, you need to be extremely careful. In fact, we do not recommend interacting with unfamiliar installers at all, because there are many malicious installers that are used for the distribution of dangerous infections. If you suspect that malware was infiltrated along with Findizer, quickly install a malware scanner to inspect your operating system. Obviously, you should attend to more dangerous infections first. That does not mean that you can ignore the extension itself because it could be dangerous in a few ways. Did you know that Findizer is classified as an ad-supported program? This seemingly helpful add-on should help you manage your desired products, but it has been found injecting advertisements as well, and this could lead to risky situations.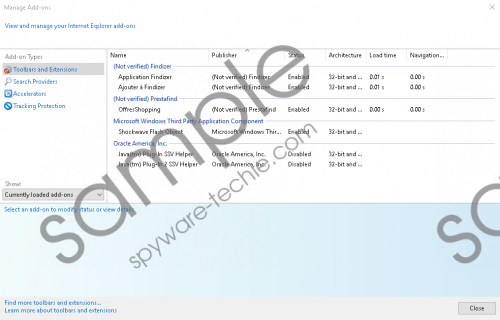 Findizer screenshot
Scroll down for full removal instructions
The suspicious Findizer is targeted at users who speak French, but it can inject ads on websites that are represented in other languages as well. According to our research, this adware usually shows coupons and banner advertisements, and you have to be careful about those. Although they might seem to offer beneficial deals, you need to keep in mind that they represent the services of unknown parties. Have you ever heard of malware distributors using misleading ads to expose users to malicious infections or tricky scams? Unfortunately, some advertising tools are exploited by malicious parties, and we cannot claim that Findizer will not be used by them as well. The Privacy Policy supporting this program claims that ads could be selected after tracking information about you. Although recording non-personally identifiable information is not illegal, and data-tracking cookies are employed by most online service providers, it is not recommended allowing potentially untrustworthy parties to spy on you.
We advise deleting Findizer from your operating system, and we have created a simple, easy-to-follow guide that will help you remove this ad-supported program in no time. Note that if you have downloaded it via Internet Explorer, you will have to uninstall the app (might be named "OffriesShopping"). Firefox and Chrome users can get rid of this unwanted extension directly from their browsers. If you have used a third-party installer to acquire this program, you should also scan your PC to see if other threats require removal as well. Even if you do not find any additional infections, protecting your operating system with a trusted search tool is an incredibly important step, and you should not skip it.
Removal Instructions
Windows 10/Windows 8/Windows 7/Windows Vista
Simultaneously tap Win+R to launch RUN.
Type Control Panel into the Open box and click OK.
Move to Uninstall a program.
Right-click and Uninstall the undesirable program.
Windows XP
Click the Start menu icon on the left of the Taskbar.
Open the Control Panel menu.
Double-click Add or Remove Programs.
Select and Remove the undesirable program.
Google Chrome
Open the browser and tap Alt+F keys together.
Move to More tools and click Extensions.
Identify the unwanted add-on and click the recycle bin.
Choose Remove and then restart Chrome.
Mozilla Firefox
Open the browser and tap Ctrl+Shift+A.
In Add-ons Manager select Extensions.
Remove the undesirable extension.
Restart the browser.
In non-techie terms:
You need to delete Findizer from your operating system if you do not want to be exposed to suspicious advertisements and you do not want information about you collected by suspicious data-tracking technologies. You can erase this ad-supported program from your operating system manually, but we suggest employing anti-malware software. This software can ensure that all existing threats are eliminated successfully and that your operating system is protected reliably. If you have any other questions about this adware or the removal process, please start a discussion below. Have you noticed the guide below? This guide is to be used in those cases when malware paralyses the operating system, and we are hopeful that you will not need to use it.