Do you know what Finding Discount is?
Finding Discount is just one more adware application that must be removed once it is found running on your PC. Quite a few users are manipulated into downloading and installing this adware program due to the misleading marketing strategies employed by its vendors. In reality, Finding Discount will only drive you crazy, as your browser will be flooded with various third-party ads and pop-ups. In addition to that, it is known that in certain cases adware programs could expose your PC to suspicious third-party web content. If you are a security conscious user, do not hesitate to remove this adware program once and for all. We provide a comprehensive removal guide that is easy to use and will help you delete Finding Discount in no time.
Malware experts at Spyware-Techie have discovered that for the most part Finding Discount is distributed via bundled installers. In order to greatly reduce the risk of getting your PC infected with Finding Discount or any other Internet-based infection, you should avoid suspicious third-party download websites. In addition to this, we strongly advise you to pay the utmost attention while installing any application onto your system. Always choose "advanced installation" as that provides maximum information. This way you might be able to cancel the installation of any unwanted application. Lastly, a reliable antimalware tool should be active on your PC at all times as that is the best way to avoid any Internet-based infection.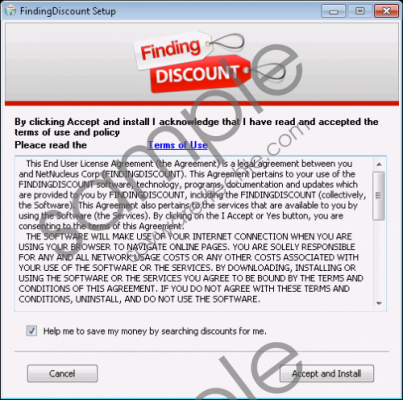 Finding Discount screenshot
Scroll down for full removal instructions
Just like so many other adware programs today, Finding Discount will be responsible for enormous amount of ads and pop-ups flooding your browser. This will happen as soon as this suspicious program enters your operating system. The ads and pop-ups will make browsing the web an annoying and frustrating experience, to say the least, as you will have to fight your way through those ads and pop-ups every time you surf the web. In most cases ads presented by Finding Discount are random and utterly useless. We firmly advise that you not click on any ads that Finding Discount presents to you as they could be implemented with redirect links to suspicious third-party websites. You might end up on websites that promote suspicious third-party software. Do not take any chances with Finding Discount and remove it once it is located on your PC.
Fortunately, the removal procedure is rather simple, as you can remove Finding Discount via Control Panel. Keep in mind that, in some cases, some leftovers of Finding Discount could still be present on your PC even though manual removal is executed. This is why you should always check your PC for traces of the infection.
How to remove Finding Discount
Remove Finding Discount from Windows Vista and Windows 7
Click the Windows button.
Select Control Panel.
Click the Uninstall a program option.
Select Finding Discount and click Uninstall.
Remove Finding Discount from Windows XP
Click Start.
Select Control Panel.
Click Add or Remove Programs.
Uninstall the unwanted application.
Remove Finding Discount from Windows 8
Move the mouse pointer to the lower-left corner of the screen.
Right-click and select Control Panel.
Click Uninstall a program.
Double-click Finding Discount to remove it.
In non-techie terms:
Some users may find manual removal and analysis for potential leftovers to complicated, if you are one of those users, please follow the instructions that we provide below, they will help you remove Finding Discount in an automatic way.