Do you know what Findgofind.com is?
Browser hijackers are incredibly intrusive applications, which you must remove if it happens to be active on your personal computer. Malware experts working at our internal labs have recently come across one such program, which goes by the name of Findgofind.com. Just like any of its counterparts, it is an application that is fully capable of making unauthorized and otherwise undesirable changes to your browser's default settings. At the moment this hijacker affects only the Google Chrome browser. Nonetheless, its developers might release an updated version, which could have a negative impact on other major browsers; thus, it is important to be aware of its existence. To learn what devious functionality this program exhibits and what potential dangers it might impose, make sure to read our detailed report. Alongside such information, we also provide a comprehensive removal guide that will allow you to delete Findgofind.com easily if it is ever found up and running on your computer.
The first indication that Findgofind.com is fully active on your personal computer is a sudden change of your default new tab page and search engine. One of the most annoying things about such intrusive functionality is that you are not asked to authorize any of the alterations, neither are you notified about them. These modifications are triggered by a questionable third-party browser extension, which the hijacker in question installs once it successfully enters your operating system. The same plug-in also keeps the undesirable changes intact. It is possible that some users might find these alterations refreshing; unfortunately, the changes are quite the opposite of that because they have a negative effect on the way you experience the web. Basically, for as long as the hijacker in question will be fully active on your PC, you will be forced to use a questionable search engine for every single online query, whether you want that or not. Also, you will also be presented with a questionable third-party website every time you will open a new tab in your browser. It should be self-evident that due to this hijacker, surfing the web the way you are used to will be impossible. The only way that you can restore your browser's default functionality is by executing a complete removal of Findgofind.com. To do that you can use an easy-to-follow removal guide that we present below.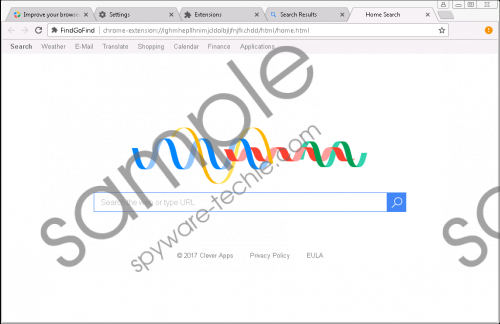 Findgofind.com screenshot
Scroll down for full removal instructions
While the intrusive changes made by Findgofind.com are its most prominent features, you must know that there are worse things about this hijacker. It could prove to be a major virtual threat in a couple of ways. Firstly, it is important to note that you must check your computer for other dubious applications if you already have the hijacker in question running on your PC because it is often spread via bundled installers, which can be filled with invasive and even malicious programs. Furthermore, you must know that using the newly set search engine could have disastrous outcomes because it might present you with modified search results. While such results do not appear often coming across one remains a possibility. If that happens, you could be taken to a site that runs an arbitrary code execution exploit, meaning that just entering that web page might be enough to infect your personal computer with some unknown malware. In other situations, you could encounter a result that might redirect you to a fake online shop. As you can probably tell, fake online stores are created by cyber criminals for a sole reason of stealing your credit card data and other sensitive information. Under no circumstances take any chances with Findgofind.com and conduct is complete removal right away.
Findgofind.com must be terminated without second thoughts. To do that make sure to follow the instructions that we provide below. Remember that you must remove every single bit of Findgofind.com to restore your browser's default settings once and for all. To be sure that no leftovers related to Findgofind.com are still active on your computer, make sure to conduct a thorough analysis of your entire operating system once you are done with the instructions below. It is crucial to do so because traces of this hijacker could prove to be more than enough to silently restore it. In other cases, those same leftovers might be just enough to keep the devious changes in place.
How to remove Findgofind.com from your PC
Google Chrome
Start your web browser.
Click the Chrome Menu button.
Select More Tools.
Click Extensions.
Click the Trash can icon next to the unwanted extension.
Select Remove to confirm your choice.
In non-techie terms:
If you happen to find manual removal and analysis of your PC too difficult, do not worry. You can terminate this browser hijacker by following the alternative removal guide. Simply follow the instructions that we present below and you will be able to delete Findgofind.com in a fully automated manner.