Do you know what Finders Deals is?
Finders Deals is a plain adware-type program that comes as an extension for Google Chrome. Its developers use it to make money because it generates advertising revenue by subjecting you to all kinds of ads while you browse the web in general and online shopping websites in particular. Removing this adware is highly recommended because its ads can be annoying, misleading and sometimes even dangerous. Make no mistake, Finders Deals is a malicious application that will subject you to content that you might not have wanted to see and that can put your computer's security at risk.
If you install this browser extension onto your browser, then you can expect it to randomly show coupons promoting various deals, commercial offers, sponsored messages, and so on. The coupons can be annoying at times, and they might replace legitimate ads on certain sites such as online shopping websites. The problem is that the promoted content can come from several sources that can be replaced by other advertising partners. So, because this program is inherently unreliable, there is no guarantee that the ads you see will be legitimate and, thus, safe to click.
Interestingly, this particular adware is set to replace Chrome's new tab page to Api-client.mobitech-search.xyz, a shady search engine that was published by a company named Mobitech. However, there is no information about this company anywhere, and the search engine itself is as shady as they get. It does not work at the moment and there no indication that it will do that in the future. Perhaps this search engine was indented to promote links via its search results.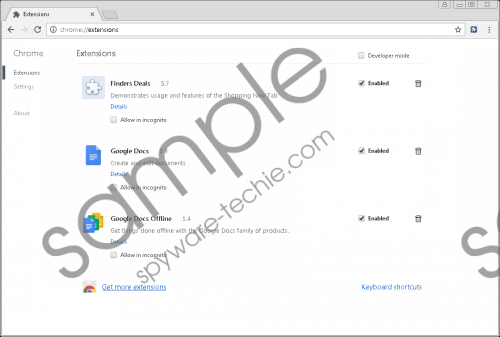 Finders Deals screenshot
Scroll down for full removal instructions
Our malware researchers have concluded that that Finders Deals is nearly identical to Torpedo Deals which is obviously another adware-type program. Both of them come from the same secretive company that purposefully hides in the shadows to avoid criticism from the users and the online community at large. Nevertheless, this fact did not stop this adware from being accepted and hosted on the Chrome Web Store where it is available for millions of people to download. Apart from that, it also has a dedicated distribution website at Findersdeals.com that hosts its standalone installer. However, even that is not enough for the creators, so they made arrangements to have it bundled with third-party software. The resulting software bundles are known to be featured on questionable freeware sites. You might install Finders Deals accidentally when installing the bundle, but you should be able to deselect its installation in the advanced installation menu.
We hope you found this description useful. It is clear as day that Finders Deals is an adware application whose only objective is to replace your browser's new tab page with a shady search engine and show coupons promoting products and other content. However, the search engine does not work, and the ads are rather questionable, so we recommend that you remove this extension from Google Chrome and be done with it.
How to remove Finders Deals
Launch Google Chrome
Simultaneously press Alt+F and select More tools.
Click Extensions and find Finders Deals.
Click Remove.
In non-techie terms:
Finders Deals is a browser extension that turned out to be ad-supported. Apart from showing advertisements and replacing Chrome's new tab page address with its promoted search engine, this program does not do anything else. Therefore, to be on the safe side of things, we recommend that you remove this program from your PC.