Do you know what Finally Fast is?
Finally Fast is an application you do not want to have on your computer even though it might look legitimate, but we must inform you that it is not. We recommend that you remove this application, because it is deceitful in nature, and is not beneficial in any way. If you install this application and pay for its services, you will only throw away your hard earned money. This application has been classified as a potentially unwanted program (PUP), which in nonetheless an infection that you ought to remove.
If you get your computer infected with Finally Fast, it will perform a fictitious system scan that will definitely result in numerous threats and errors in order to scare and pressure you to buy the full version so that it could remove all threats. The application cannot be trusted, because it has been developed for the single purpose of generating revenue for its developers. The initial cost of the application is $29.95, but you might have to pay more further down the line if you choose to use the supposedly useful program. If you install the program, a Performance Center will also be installed. The Performance Center serves as a promotional tool for other unreliable programs, such as Active Speed, Registry Cleaner, PC Scan & Sweep, and Spyware Strike Pro. Note that you should also remove any of the aforementioned programs, since they too are regarded as infections.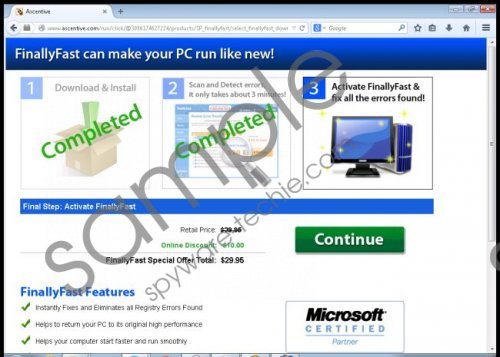 Finally Fast screenshot
Scroll down for full removal instructions
At any rate, Finally Fast has been developed by the Ascentive LLC, which, not surprisingly, has a very poor customer service track record. Officially the company claims to be situated in the USA. But in reality, it is most likely to be located in India, since all of their sales representatives and customer support technicians speak with a heavy Indian accent. The application can be downloaded from its official website at Finallyfast.com. However, we do not recommend visiting the page, but we want users to be aware of the infection's origins.
In conclusion, Finally Fast is an unreliable application that you should not trust, because it provides bogus scan results to scare and encourage you to pay its developers money for the full version of the product. Do not be fooled by clever marketing tactics – do not install this application, and remove it if you have already. You can get delete it using our manual removal guide or a genuine anti-malware scanner.
Remove Finally Fast from your computer
Windows 8 and 8.1
Navigate the mouse cursor to the bottom right corner of the screen.
Open the Sidebar and click Settings.
Go to the Control Panel.
Click Uninstall a program.
Find Finally Fast and right-click on it.
Click Uninstall.
Windows 7 and Vista
Open the Start Menu and open the Control Panel.
Click Uninstall a program.
Find Finally Fast and right-click on it.
Click Change/Uninstall.
Windows XP
Open the Start menu and open the Control Panel.
Click Add or remove programs.
Find Finally Fast.
Click Uninstall.
In non-techie terms:
Finally Fast is an infection that poses as a useful PC optimization program. If you download and install the application, it will perform a bogus system scan which will undoubtedly result in numerous infections. The program will offer you to purchase the full version so that it could remove the supposed threats from your PC. Do not fall for this old trick. Remove this infection from your computer as soon as possible.