Do you know what filmsNow Search is?
It is possible to find filmsNow Search in your Google Chrome browser even if you do not remember installing it. Our researchers have found that this new browser extension belongs to a family that also contains MoviesNet Search, MusicNet Start, and FilmsNet Start among others. These are all very similar and sometimes even identical search pages or features. This tool has been classified as a potentially unwanted program, or PUP for short. In other words, this extension does not mean direct and huge danger to your computer or to you; yet, there is a chance that it may expose you to questionable third-party content. It can also be find spreading in deceptive ways, which again makes it suspicious. We suggest that you do not use this tool if possible. What's more, we recommend that you remove filmsNow Search from your computer in order not to give it a chance to put your system security at risk.
It is possible to download and install this PUP officially if you visit its promotional webpage at medianetnow.com or the Chrome web store page at chrome.google.com/webstore/detail/filmsnow-search/pcflcdabljbmaodkpkpbepfihonpegjc. The official page is a very simple one that actually promotes five tools on one page. Once you click on the "Add to Chrome" buttons, you are redirected to the respective web store page and you can install the chosen tool. Once you think you are through with the installation, another questionable browser extension is offered to you to install. This is quite pushy but we understand if this alone is not enough for someone to act and delete filmsNow Search.
However, these are not the only ways for this PUP to appear on your computer. Schemers often use software bundles to deliver such threats as well as malware infections. Such bundles are then promoted by suspicious file-sharing websites like torrent and freeware pages. These sites are also infamous for hosting unsafe third-party ads and other content that you may not even realize to be ads (e.g., fake notifications and fake buttons). You can also find such contents on other suspicious sites usually associated with online betting, gaming, dating, and porn. You should avoid landing on such pages if you do not want to infect your computer with a PUP like this as well as malware threats like adware programs, browser hijackers, Trojans, and fake alerts. Since these infections can also expose you corrupt third-party ads and links, you can further infect your machine as long as you do not make sure that your system is all clean. That is why you should run a full-system malware scan after you delete filmsNow Search.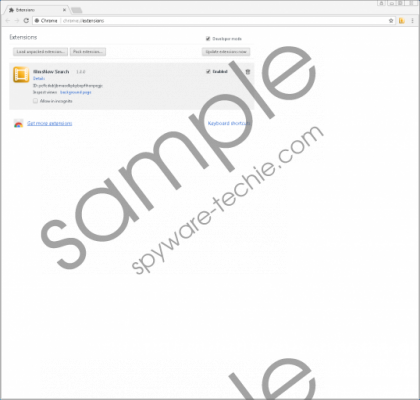 filmsNow Search screenshot
Scroll down for full removal instructions
When you are installing this PUP, it sets search.medianetnow.com as your default search engine and changes your homepage and new tab settings so that you do not have the usual default search box on the page but the cursor will be focused in your address bar. This is to push you to use the new default search engine, which, by the way, will redirect you to modified Yahoo search results pages, which may include questionable ads and links promoted by this tool. This extension only works in Google Chrome. It also installs a button, which you can find in the Taskbar of your browser. If you click on this button, a new tab opens where are instructed by a little window to type in a letter "m" and then, press the Tab key to activate the filmsNow Search function. This search will redirect you to a gomovix.com page, which is the promoted online movie streamer page. You should know that this site can expose you to questionable third-party ads and you may not even be able to watch any movies there since you may simply be redirected to a Google search results page with the chosen movie as keywords. All in all, this is a totally useless browser extension that may present to you potentially harmful ads and links. If you were to engage with those, you could put your system security at risk. We advise you to remove filmsNow Search right away.
If you are ready to put an end to this useless tool, you can use our instructions below as a reference. You can perform these easy steps even if you are not an advanced computer user. Nevertheless, cleaning your system fully of any threats possible could be more difficult than you may think unless you are an IT savvy, of course. So we recommend that you use a professional malware removal application like SpyHunter to eliminate all existing threats from your computer as well as protect it from future attacks.
Remove filmsNow Search from your browser
Tap Alt+F and select More tools.
Choose Extensions.
Locate the extension and click on the Trash can icon.
Press Remove.
In non-techie terms:
If filmsNow Search can be found in your Google Chrome browser and you do not recall installing it, you should know that there is a chance that there are malware infections on your computer. This browser extension may only be a potentially unwanted program, it can still pose a threat to your system by the questionable search results it may display to you. Since its presence can also indicate multiple system security threats by which you could further infect your computer or end up scammed by crooks, we suggest that you remove filmsNow Search from your PC. Protecting your computer should be your priority if you would like to use a secure system. You can automatically safeguard your PC if you employ professional anti-malware software.