Do you know what FilmsJunkie is?
FilmsJunkie is a browser extension that can also be considered a browser hijacker. It is intended for the Chrome browser, and so it does not work on Internet Explorer and Firefox. Computer security experts recommend against keeping such extensions because they could be exploited by malevolent third parties. That is to say, even if this application is not malicious by nature, it might be misused by cyber criminals to promote or distribution malicious content. Hence, to protect your computer and your personal information, you should remove FilmsJunkie from your browser as soon as possible.
It might be hard to grasp the risks behind this application because it is not your average computer infection. It is neither a ransomware program nor your usual Trojan that enter target systems surreptitiously. In fact, unless you add FilmsJunkie to your browser yourself, it cannot affect you at all.
Of course, here you might say that you never wanted to have something like this extension on your browser, but it is possible to install unwanted program accidentally. The extension might also bully you into adding it to your browser, especially if you open a pop-up with the suggestion via some third-party website.
That is why computer security experts always emphasize that your web browsing habits are crucial when it comes to protecting your system from a number of threats. Even if you have a security program installed on your computer, you could still end up with a number of unwanted apps on your computer because of sheer negligence. When you download new programs, be sure to download them from their official sources. And if you must get a program from a file-sharing website, then do not forget to read all the steps in the installation wizard carefully. Or if the installation appears as a pop-up on your browser, check the permissions to know what exactly you allow a certain app to do with your data.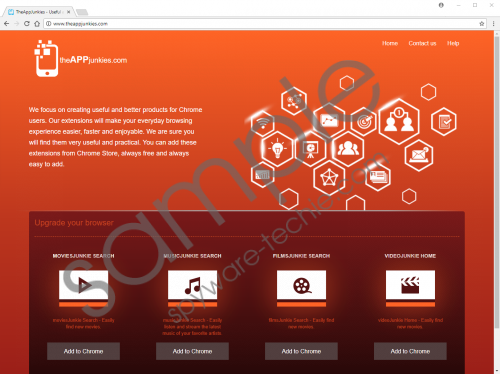 FilmsJunkie screenshot
Scroll down for full removal instructions
As far as FilmsJunkie is concerned, this extension requires you to let it "read and change all your data on the websites you visit," and also "change your search settings to: go.searchalgo.com." This clearly shows that users add the extension to their browsers knowing what it entails (or at least they should know if they were to read what it says). Consequently, it should not be surprising when FilmsJunkie changes your default search engine to go.searchalgo.com because it definitely informs you about it.
Nevertheless, this modification may come as a surprise if users browse absent-mindedly. And at first, it might not look like much of a change because this search website looks like a genuine search engine that can help you find the best results for your queries. However, when we deal with browser extensions that require certain permissions, we have to understand that those permissions allow certain apps to process our web browsing data and share it with unfamiliar third parties. It is very likely that FilmsJunkie will collect information on your web browsing habits and then use it for advertising purposes.
For the most part, it should not be much of a problem, especially as the application might provide you with various suggestions you might find useful. However, the thing you have to remember is that this extension does not review the content it promotes. Hence, some of the links and the ads you say might be generated by third-party advertising servers, and that is definitely not safe. What's more, in the worst-case scenario, such redirections could lead to a malware infection, and then you would have a lot more on your platter.
Therefore, before any of that happens, you should delete FilmsJunkie and then make sure that similar intruders do not enter your system again. If you think that you have more unfamiliar and potentially harmful programs installed on your system, you can always run a full PC scan with a security tool of your choice. In fact, regular system scans can help you maintain your computer's safety.
Finally, do not hesitate to acquire an antispyware application that would protect your system from various intruders, and please review your most common behavioral patterns when it comes to the Internet browsing. You might be surprised to see how many trivial mistakes you make.
How to Delete FilmsJunkie
Press Win+R and type %LocalAppData%. Click OK.
Navigate to Google\Chrome\User Data\Default\Extensions.
Remove the mhcjkdaaggiladikcolhfjbhgejhgpje folder.
Open Google\Chrome\User Data\Default.
Remove the Preferences, Secure Preferences, and Web Data files.
In non-techie terms:
FilmsJunkie is an unwanted extension that works on the Chrome browser. It modifies your browser's settings, and that is dangerous because the data collected by your browser can be shared with unknown third parties. Because of that, computer security experts recommend removing FilmsJunkie immediately. If you cannot do it manually, please terminate the extension with a reliable antispyware program. Do all you can to protect your PC from harm.