Do you know what FilmsApp Search is?
FilmsApp Search may be a new Google Chrome browser extension to the untrained eye, but our researchers have certainly seen very similar potentially unwanted programs (PUPs) in the past weeks. Although this PUP is promoted by a seemingly different website and creators, we could clearly identify this new extension as a newcomer from the same team who created VideoCenter Search, ArcadeCenter Search, MovieCenter Search, and GameCenter Search as well. This PUP changes your Google Chrome browser settings to set its search engine as your default. However, this search engine may present to you questionable results that could put your system security at risk. What is even worse, this tool may show up uninvited on your computer as part of a software package that could carry malicious threats as well. This should not be tolerated and left unaddressed either. This is why we advise you to remove FilmsApp Search from your PC along with all other potential and malicious threats, too.
Since our researchers have found this PUP spreading in free software bundles, it is important for us to talk about this method first since finding this extension in your browser may indicate the presence of way more serious threats. A software bundle can carry all kinds of programs in fact. This is why it has become a widely used distribution method for schemers. The most usual passengers in a package could be PUPs and malware infections like adware programs, fake alerts, keyloggers, backdoors, Trojans, and even ransomware programs. You can drop such a package when you download free or cracked software from questionable P2P websites (torrent or freeware) because these pages usually promote such bundles instead of standalone files. But you can also download such a bundle when you click on the wrong third-party content, such as banner and pop-up ads, fake download and navigational buttons, and fake system notifications. These are generally offered by suspicious websites associated with porn, gaming, betting, and file sharing. Yet another way to be exposed to such ads and content is when your computer is infected with malware like ad-supported programs. All in all, it is essential that you use a reliable online malware scanner to identify other threats after you delete FilmsApp Search from your computer.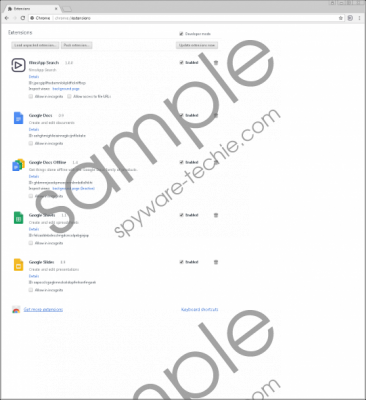 FilmsApp Search screenshot
Scroll down for full removal instructions
Of course, you can also choose to install this PUP in the official ways like its promotional page, superappbox.com/. This page is very simple, in fact, it reminds us very much to another one at playmediacenter.com, which offers identical application to install. We assume that the creator team behind both sites and the applications promoted is one and the same. You can also install this tool via the Chrome web store, chrome.google.com/webstore/detail/filmsapp-search/jpecgipllfoebemnlokpldficknlfbcp?hl=en. Please note that finding an application in this store does not necessarily mean that it is reliable and beneficial. Be aware that there could be dozens or even hundreds of browser extensions there waiting for users to report them as a potential threat and Google to block and remove them from the store. Always perform a web search when in doubt or before downloading an unfamiliar program. This could save you the unnecessary headache and the need for removing FilmsApp Search from your browser.
This PUP sets movie.eanswers.com as your default search provider so every time you type in keywords in your address bar and hit Enter, you will find yourself redirected to a manipulated Yahoo search results page. Another result of the browser setting changes this extension makes is that your home page and new tab page will not include the usual default search box. This is rather annoying and could be used as a way to push you to use the default search engine. However, clicking on any search results or ads on that page could lead to further infections or opening new tabs with malicious content. Whenever a website opens in your browser that is operated by cyber crooks, there is a chance that you could be scammed. This extension also provides you with a button in the toolbar that displays a small window when pressed. This window shows you a search box and several thumbnail links as movie genres. Both the search box and the links redirected you to a respective gomovix.com page. This website is known for being questionable and may display unreliable third-party ads, too. We recommend that you do not hesitate to delete FilmsApp Search from your PC as this is really a useless application for you.
In order to get rid of this undesirable app, all you need to do is remove this extension from your Google Chrome browser. If you are unfamiliar with the necessary steps, you can use our guide below as a reference. You can easily accomplish these steps in a minute even if you are not an experienced user. If you want better security, you should make sure that your programs are always up-to-date and that there is no threat present on your computer. You can try to be a more careful web surfer to avoid threats but it is more effective to install a trustworthy anti-malware program like SpyHunter for automatic protection against all existing infections.
Remove FilmsApp Search from your browser
Google Chrome
Press Alt+F andselect More tools.
Choose Extensions.
Find the unwanted extension in the list and press the Trash can icon.
Click Remove in the confirmation window.
In non-techie terms:
FilmsApp Search may sound like a cool addition to your Google Chrome extension collection if you are a movie fan, but we must tell you that we consider it as a potential threat source even if not a dangerous one. In fact, our researchers have categorized it as a potentially unwanted program because it may introduce you to questionable websites as well as manipulated web search results that may include potentially harmful ads and links. Unfortunately, this extension may enter your computer in a freeware bundle that could carry malicious software installers. This means that if you find this tool in your Google Chrome browser and you do not remember installing it, chances are your computer is packed with a number of malware threats, too. For these reasons we suggest that you remove FilmsApp Search from your computer and scan it with a proper malware scanner so that all possible threat sources can be address before it is too late. It may be time for you to protect your PC with a powerful anti-malware program, too.