Do you know what Fileplus is?
Although Fileplus promises to help you download software, movies, music, and games, this potentially unwanted program appears to have been created for a few other purposes. For one, it appears that this PUP can record user's information and share it with various parties. Second, this suspicious program can be employed to work as an advertising tool, and all kinds of advertisements are likely to show up as long as the program is installed. Of course, most users will not know about this when installing the PUP because these things are not promoted as features. Once you realize that the tool is not that great, you might be interested in removing it. Unfortunately, deleting Fileplus is not that easy because you cannot uninstall it like any unwanted application. Instead, you have to locate and erase the files representing this program. Do not worry if you do not know how to do this because this report explains it all.
Have you downloaded Fileplus when downloading files represented via fileplus.org? If you have not, it is most likely that you have used a third-party installer because an official installer representing this PUP does not exist. Although you might think that you have downloaded the program safely, in reality, you might have acquired it bundled with malware. Therefore, if the suspicious program is active on your operating system, the first thing you should do is perform a full system scan to check if malware is running wild. Obviously, if that is the case, you need to figure out how to eliminate it quickly and efficiently. Should you choose to remove Fileplus and all other undesirable threats manually, you have to evaluate them to see which ones are the most dangerous and require removal first. Also, note that you can look for removal guides on this website. If you cannot find the guides you need, contact us, and we will try to assist you as best as we can.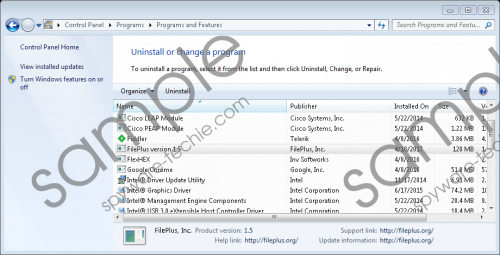 Fileplus screenshot
Scroll down for full removal instructions
If you are not sure if you need to remove Fileplus, we suggest reviewing the Privacy Policy. According to our research team, reviewing legal statements is a must, and you should not skip this step regardless of what kind of software you install. When it comes to the Privacy Policy representing the PUP, it reveals that the program can showcase advertisements to generate profit. Unfortunately, it is not clear whether the advertisers using Fileplus are trustworthy. It is not clear if any parties associated with this program can be trusted, and that is very unnerving, considering that some of them might have access to information that identifies you personally. As the Privacy Policy informs, this kind of information might be shared with both affiliated and non-affiliated companies. This is the main reason we suggest deleting the potentially unwanted program from your Windows operating system.
As mentioned previously, you have to remove Fileplus files to get rid of this PUP. The guide below should help you get rid of the program even if you are inexperienced because the steps are pretty easy to follow. Of course, if you are stumbling, add a comment below asking for assistance. Another option you should consider is using anti-malware software, especially if other threats are active because only this software can automatically eliminate all infections simultaneously. The best part is that it can erase malware without leaving any traces behind, which is something you are at risk of doing if you choose the manual removal option. This is why using a trusted malware scanner is a must.
Delete Fileplus from Windows
Windows XP
Click the Start button on the Taskbar.
Open Control Panel and then move to Add or Remove Programs.
Select the undesirable app and then click Remove.
Windows Vista, Windows 7, Windows 8, or Windows 10
Simultaneously tap Win+R keys to launch the RUN dialog box.
Enter control panel to access the menu and then move to Uninstall a program.
Right-click the undesirable program and then choose Uninstall.
Delete files
Tap Win+E to access Windows Explorer.
Type %Appdata% into the bar at the top and tap Enter.
Delete the folder called FilePlus.
Type %PROGRAMFILES% (or %PROGRAMFILES(x86)%) into the bar at the top and tap Enter.
Delete the folder called FilePlus.
Install a trusted malware scanner and scan your operating system to check for potential leftovers.
In non-techie terms:
Fileplus is a potentially unwanted program that is meant to help you download files, but, ultimately, it is just another advertising tool that can be used to showcase unpredictable third-party ads. On top of that, this PUP can record and leak personal information, which is never a good thing. If you lack experience, eliminating all threats active on your operating system might be too much for you. Luckily, anti-malware software can help you out, and, in fact, we advise using it regardless of your expertise because reliable anti-malware software is good not only at eliminating malware but also at protecting your operating system against it.