Do you know what FileLocker Ransomware is?
FileLocker Ransomware (also called Czech Ransomware and UserFilesLocker Ransomware) is a new malicious application which has been developed to obtain money from users. It has become clear for specialists quickly that it is one of these threats whose main purpose is to convince users to make a payment. Even though the window it opens after the successful entrance contains a message that all files have been encrypted using a strong encryption algorithm AES-256, the version of FileLocker Ransomware our malware analysts have tested does not do anything really harmful. Frankly speaking, only a window trying to convince users that their all files have been locked and, as a consequence, they need to pay a ransom is opened by this threat for users. Of course, it might be updated soon, so keeping FileLocker Ransomware on the system is not recommended even though it does not encrypt files or perform other undesirable activities for the time being. If you go to delete it soon, it should not be hard to do that because this ransomware-type infection does not drop any files on the affected computer and does not make any modifications in the system registry.
Many users get scared when they notice a window claiming that their files have been encrypted, and a ransom in Bitcoins needs to be sent to cyber criminals to get the key to unlock them, but, luckily, they tend to quickly find out that their files are fine because the frightening window with a ransom note can be easily closed and thus they can check their personal data. Even if a user decided to pay money, it is very likely that he/she would not even find out how to do that. Users could not find the price of the decryption key indicated anywhere too. Therefore, in the opinion of our experienced researchers, this ransomware has been developed recently and it still needs to be fixed a little, or it has been developed just for testing. Either way, your system is not a good place for malicious software, so delete FileLocker Ransomware without consideration.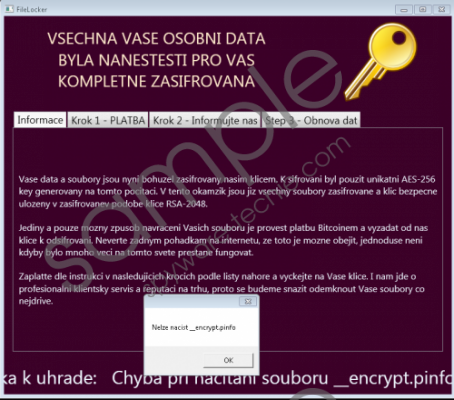 FileLocker Ransomware screenshot
Scroll down for full removal instructions
If you are reading this article after some time because you have encountered a working version of FileLocker Ransomware, i.e. your personal files have been encrypted by this ransomware infection, do not go to transfer the required money by any means because, unfortunately, there are no guarantees that the promised key for unlocking files will be sent to you after you give what cyber criminals want. Instead, try out all reputable free data recovery tools available on the web. If the so-called Shadow Volume Copies of files have not been deleted, you have a chance to recover your files for free. What else users whose files have been locked can do is to recover them from a backup. This is, of course, only possible if a user had backed up the most important files before the entrance of a ransomware infection.
FileLocker Ransomware has been detected recently (at the end of February, 2017), so not much information about the methods used to spread it has been collected yet, but it is clear, according to our team of experts, that users do not download and install it voluntarily on their computers. Unfortunately, most probably, users still contribute to the entrance of this bad program unwittingly. We cannot blame them, of course, because this computer infection is disguised as an email attachment. In some cases, spam emails end up next to decent emails, so it is not surprising that even those users who know about the dangers of spam emails open them and infect their PCs with ransomware. Users living in the Czech Republic should be careful the most, according to researchers, because, judging from the language used by this infection, it targets computer users living there primarily. Of course, all users, no matter where they live, should stay away from all spam emails they receive. On top of that, they should go to install a security application on their computers.
To make sure that FileLocker Ransomware is not updated and does not make files unusable, go to delete the malicious file you have downloaded recently. In most cases, these files are located in %USERPROFILE%\Downloads or %USERPROFILE%\Desktop. If you cannot find it there, go to scan your computer with an automatic malware remover, such as SpyHunter. You will just have to launch it, and it will do the rest of the job.
FileLocker Ransomware manual removal instructions
Open the Windows Explorer (Win+E).
Open %USERPROFILE%\Downloads or %USERPROFILE%\Desktop.
Locate the malicious file you have recently downloaded.
Delete it.
Empty the Recycle bin.
In non-techie terms:
Do not be so sure that FileLocker Ransomware is the only malicious application on your computer. Bad programs know how to hide themselves well, so you might not even know about the presence of other threats. It is not very likely that you could find those infections manually on your PC, so scanning the computer with an automatic scanner is highly recommended. Do this right after the manual FileLocker Ransomware removal. Of course, you do not need to do that again if a ransomware infection has been erased using an automatic scanner – all other malicious programs and their components have all been deleted too.