Do you know what FileFrozr Ransomware is?
FileFrozr Ransomware is a new computer infection that is available for sale. Normally, we would imagine that hackers and cyber criminals create their own programs and then spread them around, to infect unsuspecting computer users. However, just like most of the things are ready-made nowadays, there is no need to create your own program anymore, as you can easily purchase something like FileFrozr Ransomware online. It is rather disturbing to see that the website that promotes this infection even comes up on the first page of Google search! This just proves that ransomware is the biggest online security issue nowadays.
To find out more about the infection, we are going to check out its website closely. The domain can be accessed via frozlockqqxz7a2.onion2web.tk. From its address, it is possible to find out that the creators of the infection make use of the Tor Browser to connect to the Internet. The Tor software is a cyber project that allows users to browse the Internet anonymously. The official website for this browse says that Tor "prevents somebody from watching your Internet connection from learning what sites you visit, it prevents the sites you visit from learning your physical location, and it lets you access sites which are blocked."
On one hand, such features might sound quite alluring for anyone who is in desperate need of cyber privacy. However, it is more than obvious that cyber criminals require such anonymity. Using the Tor Browser, allows FileFrozr Ransomware and other malware developers to remain hidden from the limelight. It is also harder to track them down and hold them responsible for their criminal activities. This is also the reason users have to be extremely careful when they browse the web because it is hard to foresee where such infections would come from nowadays.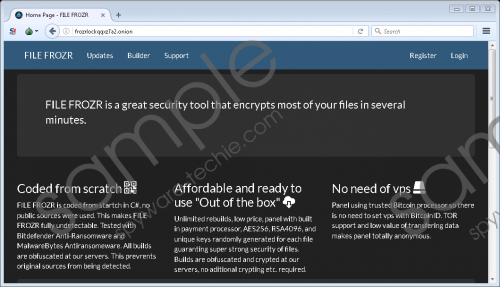 FileFrozr Ransomware screenshot
Scroll down for full removal instructions
The moment we enter the website, we are greeted with the main promotional tagline which says that "FILE FROZR is a great security tool that encrypts most of your files in several minutes. All that you earn yours, you pay once for a license, all further inspections are free." While the command of the English language on that site is rather questionable, it might seem that FileFrozr Ransomware and its builders are offering a rather good deal for anyone who would be willing to indulge in this illegal activity. It even says that there is "no need of vps," which means that there is "no need to set vps with BitcoinID" because the program is "using trusted Bitcoin processor."
Although the website does not offer more information on the builder, it does have the support section, where users can find the e-mail address (filefrozr@protonmail.com). It says that "if you need support in the installation of the panel, configuration of FILE FROZR or any other help, feel free to communicate us." Once again, limited English aside, it seems that whoever created this ransomware, they are offering a rather full-fledged customer support. It is somewhat surprising because the current price for FileFrozr Ransomware is 0.14 BTC which is approximately $150USD. This is normally the amount of a ransom fee demanded by most of the ransomware infections.
What's more, it is still rather unlikely that anyone has bought and spread FileFrozr Ransomware around because no transactions have been made to the given Bitcoin wallet yet. To attract new clients, the people behind this infection post info about it on a number of hacking forums, such as sinister.ly and hacksbb.net. Also, the last posts on the ransomware's website were added on March, 2017. Seeing how it has been around a month since then, it is very likely that the infection has not taken off yet.
What can regular computer users do about FileFrozr Ransomware? The most important thing is to avoid such infections by employing safe web browsing habits. Although the ransomware distribution methods may differ from one infection to another, the most common way for such programs to spread is spam email campaigns. Therefore, it is important to avoid opening unfamiliar messages from unknown senders. You could also prevent FileFrozr Ransomware from entering your system by staying away from unfamiliar websites, especially if they are full of random pop-ups.
In some cases, it might be hard to avoid FileFrozr Ransomware altogether, but please remember that you are not alone in this battle. Computer security teams are always ready to assist you.
In non-techie terms:
FileFrozr Ransomware is a malicious program that cyber criminals can buy and infect countless of users worldwide. Computer users need to protect themselves from such infections by educating themselves about malware and ways to stop it. Safe web browsing habits would be your first step in preventing malicious infections from entering your system. For further tips and guidelines, please feel free to leave us a comment below.