Do you know what File Recovery is?
File Recovery is a fake hard disk defragmenter that you might find on your computer as a present. This bogus application pretends that it can fix errors of your system but for an extra charge. The malware can get into the system in different ways of social engineering; hence, do now download any suspicious programs, because you will download a malign application that you might not know how to remove. File Recovery replaces a rogue known as Smart HDD, Data Recovery, and this another argument why you should delete this malware straight away.
The infection aims to gather computer users' money, and this is done by displaying information, which to an average computer user may seem to be very convincing, especially when the rogue warns that the data stored on the computer may be lost. File Recovery presents scans of the system and lists a bunch of fake errors, which do not have anything in common with the system in question.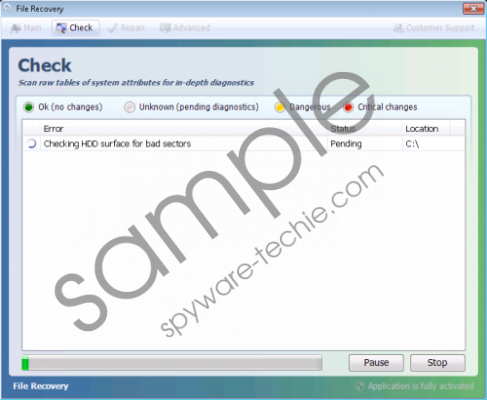 File Recovery screenshot
Scroll down for full removal instructions
The bogus warnings look like these:
Hard Drive Boot Sector Reading Error
During I/O system initialization, the boot device driver might have failed to initialize the boot device. File system initialization might have failed because it did not recognize the data on boot device.

System blocks were not found
This is most likely occurred because of hard disk failure.
This may also lead to a potential loss of data.
Besides bogus messages, which should be definitely ignored, the File Recovery disables Task Manager and, in this way, does not allow users to see the processes running the system. Moreover, to scare users even more, the rogue may slow down the system, because you are expected to purchase its non-functional full version to fix all those supposed errors.
On the whole, do not hesitate and remove File Recovery. We suggest you delete the pest with a reliable antispyware tool even if you can delete it manually. A manual removal of the rogue is a cumbersome procedure, because it requires a lot of attention and persistence; hence, download a legitimate spyware removal tool. Before the removal, you may register File Recovery so that it does not disturb you with fraudulent messages any longer, or restores access to the Internet if it has been disabled.
08869246386344953972969146034087
In non-techie terms:
File Recovery is a piece of malware that steals in the system unnoticed and attempts to lure users into believing that there are some serious errors in the system. The infection wants to persuade users to buy it imaginary full version; hence, the removal of File Recovery is a must.
Aliases: FileRecovery.