Do you know what File-help@india.com Ransomware is?
File-help@india.com Ransomware is a malicious application that might make user's data unusable and so cause him a lot of trouble. What is even worse is that the cyber criminals who created this threat say they can recover files but only if you purchase a pricey decryption tool. Obviously, the people who earn money this way cannot be trusted, so provided you do not want to gamble with your savings, we do not recommend paying the ransom. Before making a rash choice, it would be smarter to read the rest of the text and learn more about File-help@india.com Ransomware. Further, in the report, we will not only explain to you how this malicious application could enter the system or what damage it might do to your data but also provide you with a removal guide, which hopefully will help eliminate the malware without any difficulties.
The cyber criminals behind File-help@india.com Ransomware may use distribution methods that could help them trick the user to open the infected file unknowingly. For instance, the malicious file might be sent with an email claiming it is vital you open the file attached to it as soon as possible. According to our researchers, the infection could be carried with data that does not look harmful, for example, pictures, documents, etc. Thus, it may not raise any suspicion, especially if you never been in such a situation before. From now on, we advise you to check each attachment received through spam emails or from unknown sources with a reliable antimalware tool. The process should take only a moment, and you would instantly know whether it is safe to open the file. By doing so, you could avoid similar threats in the future and protect the data on the computer from possible damage.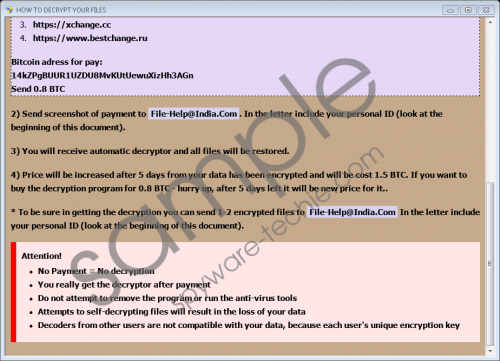 File-help@india.com Ransomware screenshot
Scroll down for full removal instructions
When the infection's launcher is opened, there might be no turning back as File-help@india.com Ransomware could immediately begin enciphering the files it finds on the PC or even storages attached to it. If you cannot recognize your files anymore, it is because the malicious application may have renamed the files with random titles. The ransomware seems to target only personal victim's data, so program files like the ones belonging to the operating system should remain unencrypted. Also, the infection might drop a file called how to recover encrypted files.hta. It should be opened automatically once the malware finishes encrypting its targeted data. The file opens a window with a message from the cyber criminals in which they urge users to transfer 0.8 Bitcoins (approximately $940) to the provided account.
Needless to say, we would not recommend paying the ransom. The cyber criminals might promise you anything just to convince you to make the payment. Sadly, if they do not keep up with their promises and the decryption tool does not arrive, you will have no one to complain to or ask for a refund. Therefore, if you do not think you can easily throw away more than nine hundred US dollars, we advise you not to take any chances. Especially, if there is a possibility to recover at least some of the damaged files. Users who choose to erase the malware could do so either manually or automatically.
The manual deletion might be slightly complicated for users who do now have much experience. Still, if you want to try it yourself, we would advise you to follow the removal guide available below this paragraph carefully. To erase the infection automatically, users should install a reputable antimalware tool. Once the software is ready to use, launch it and perform a full system scan to allow the tool to check the computer and detect malicious data belonging to File-help@india.com Ransomware. Afterward, simply click the deletion button and all identified threats should be removed at once.
Eliminate File-help@india.com Ransomware
Tap Windows Key+E to access the Explorer.
Check the Downloads, Desktop, Temporary Files, or other possible directories.
Find the malicious file you may have recently downloaded.
Select the infected file and press Shift+Delete.
Find a file called how to recover encrypted files.hta.
Select it and press Shift+Delete.
Close the Explorer.
Restart the computer.
In non-techie terms:
File-help@india.com Ransomware is a file-encrypting malicious application that damages user's private files. Since the decryption tool offered by the cyber criminals is rather pricey and there are no reassurances you will get it, we would recommend erasing the malware instead of paying the ransom. The threat should work right from the directory from which it was launched, so all users have to do is find the malicious file they downloaded and get rid of it as it is shown in the removal guide placed above. If manual deletion seems a bit complicated, you could acquire a reliable antimalware tool and let it erase the ransomware for you.