Do you know what Fidonav.com is?
Fidonav.com may show up in your browsers when you are installing a questionable free program but what you may not know is that this search webpage can pose a threat to your virtual security. In fact, our researchers have labeled this threat as a browser hijacker because it has a capability to modify browser settings. It seems that this hijacker mostly sets itself as your homepage in the most popular browsers, including Mozilla Firefox, Google Chrome, and Internet Explorer to greet you every time you open your browser. You need to be very careful with this search webpage though because it displays questionable third-party advertisements right on its main page. There is a section of thumbnail links and ads below the main search field, which you should not engage with if you want to try to keep your computer clean. The search results coming from this search engine should also be considered potentially risky as they can be filled with promoted third-party ads and links. Since this browser hijacker may enter your computer with a company of other malicious threats, there is a good chance that your PC will not be all secure even after you remove Fidonav.com from your browsers. Please read our full report to understand more about this malware infection and how you can avoid similar ones in the future.
Being infected with this browser hijacker usually means that you have clicked on corrupt third-party content recently. It is possible, for instance, that you click on a pop-up advertisement posing as a Flash driver updater or other software downloader. Obviously, this pop-up will try to convince you that you must have that update or software, or else you cannot view content on the page. If you are trying to watch an online movie on the wrong website, you will quite surely see such a pop-up. And, if you do not realize that you are on a malicious site faking to be a movie streamer, you may well click on the pop-up to install the offered driver. This action can easily result in installing such a browser hijacker or even dropping a bundle of malware infections onto your system. In other words, there is always a chance that finding this search webpage in your browsers indicates the presence of other malicious threats as well as potentially unwanted programs on your computer.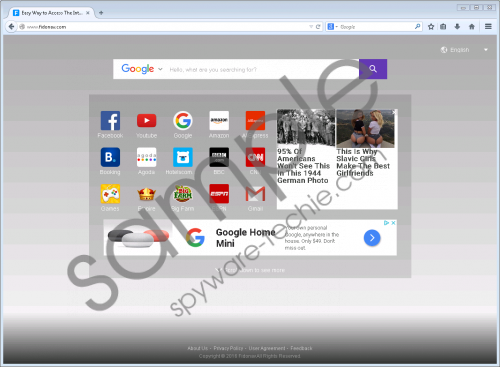 Fidonav.com screenshot
Scroll down for full removal instructions
If you plan to avoid dropping malicious software packages onto your PC, you should also forget about shady file-sharing pages, online betting, online gaming, and porn websites because these are generally the mostly packed with unsafe third-party ads that can easily drop a bundle in the background or redirect you to a malicious page that may convince you to click on the Install button yourself. Since it is more likely that there are other threats on board as well (adware programs, fake alerts, Trojans, and potentially unwanted programs), we advise you to delete Fidonav.com right now and run a full-system malware scan right afterwards to be able to identify all other possible threat sources as well.
As we have already mentioned, this browser hijacker provides you with a number of thumbnail links and other links in a section below the main search field. This section can either be expanded or collapsed. When you expand it, you will find even more third-party ads and links, which may not all be trustworthy. You should not use this site at all to search the web either because all your queries are forwarded to a Google search results page that can be altered to contain promoted affiliates' ads and links, which is always a possible source of virtual security issues. One click on the wrong ad and you could download an infection or a whole bundle behind your back. But you can also open new tab pages or new windows with malicious content that can make you believe that it is in your best interest to download a certain driver or other software, but such a page may also pretend to be an online shop that can steal your money. All in all, we believe that it is best to remove Fidonav.com right away.
We have included our guide below this article so that you can take action and eliminate this browser hijacker yourself. It may be relatively easy to identify and remove other threats as well; however, what about those that even for experts would take time to eliminate fully? Also, it may be possible for a security-minded user to keep a PC clean of such threats with cautious web surfing but one mistake and you could end up with a bunch of threats on your system again. If you would like proper protection for your computer, consider installing a reliable anti-malware program like SpyHunter or any other you may find reputable enough to be trusted.
Remove Fidonav.com from your browsers
Internet Explorer
Tap Win+R and enter regedit. Click OK.
Replace "http://fidonav.com" value data in theses registry keys:
HKLM\SOFTWARE\Wow6432Node\Microsoft\Internet Explorer\Main\Start Page (64-bit!)
HKLM\SOFTWARE\Microsoft\Internet Explorer\Main\Start Page
HKCU\Software\Microsoft\Internet Explorer\Main\Start Page
Exit your registry editor.
Google Chrome
Tap Win+E to start up the File Explorer.
Navigate to the "%LocalAppData%\Google\Chrome\User Data\Default" folder.
Delete Preferences, Secure Preferences, and Web Data files.
Empty the Recycle Bin.
Mozilla Firefox
Tap Win+E to open the File Explorer.
Navigate to the "%AppData%\Mozilla\Firefox\Profiles\[Unique Mozilla user ID]" folder.
Open the prefs.js file in a text editor (Notepad).
Modify the user_pref("browser.startup.homepage", "http://fidonav.com/") string with a homepage you prefer.
In non-techie terms:
Fidonav.com is a new search webpage that can put your system security at risk with its potentially unsafe third-party content. Our researchers say that this is a browser hijacker indeed that can modify your browser settings to show up as your homepage. This hijacker offers you more than just a search box; below it, you can find a number of thumbnail links to popular websites and questionable third-party advertisements as well. You can expand this panel and have even more links and ads. The search results you should also not trust because this browser hijacker redirects you to a manipulated Google search results page. This means that even though you are on a reliable and reputable Google search results page, it may contain unreliable third-party ads and links promoted by this hijacker and injected into this page. If you click on any questionable third-party content, you always risk downloading infections in the background or getting redirected to fake and malicious pages run by cyber crooks. We recommend that you remove Fidonav.com as soon as possible and clean your system of all possible threats as well. If you need an automated tool to take care of your system security, we advise you to install a reliable anti-malware program.