Do you know what Feed.sonic-search.com is?
Feed.sonic-search.com is a browser hijacker and a unique one at that. Our malware analysts have tested it and discovered that it is set to redirect search queries to other browser hijackers. Therefore, it is unreliable and you ought to remove this hijacker if it happens to infect your computer. We have no doubt that the only reason this hijacker exists is to make money for its owners and their partners. However, it does this at the expense of your computer's security, because the promotional links featured by the hijackers that Feed.sonic-search.com comes with can be malicious in nature. Furthermore, researchers have found that this hijacker can collect certain information about you that is used to customize the ads and make them more appealing. However, we are of the opinion that this action is unacceptable, and you should not tolerate it.
Our malware researchers have analyzed the odd relation between Feed.sonic-search.com and the hijackers that it comes bundled with. This particular hijacker is set to hijack the homepage/new tab page and search provider to redirect web traffic. If you choose to use it as a search engine, then it will redirect all of the search queries to one of the three hijackers. The hijacker to which the search results get redirected to depends on the kind of application or browser add-on you have installed. Research has shown that this browser hijacker comes with Search.SafeFinder.com, Search.snapdo.com, and Search.sidecubes.com.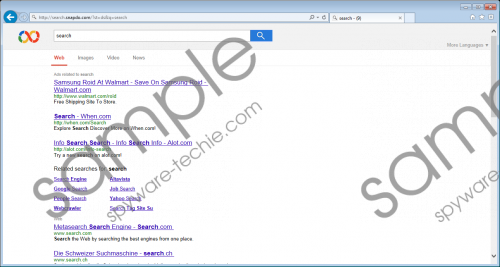 Feed.sonic-search.com screenshot
Scroll down for full removal instructions
Search.SafeFinder.com is a hijacker that comes from a company called Linkury, and it comes with a toolbar for Firefox and Internet Explorer. It comes bundled with an InstallCore installer that is featured on Brothersoft.com. Note that the InstallCore installer might come with adware such as CouponDownloader or Search Know. Search.snapdo.com is a hijacker that comes from the same family as Search.SafeFinder.com, but it is distributed using fake Java installers that install adware. In addition to the two aforementioned web browsers, Search.snapdo.com is also compatible with Google Chrome and is also set to install a toolbar. Search.sidecubes.com was developed by Veristaff Ltd, a company that is in the web monetization business. However, this particular hijacker is distributed via a dedicated website Sidecubes.com that features a toolbar download. So all of these hijackers come with toolbars that are distributed using different channels, the two of them are compatible with the three most popular web browsers. And, most importantly, all of them feature Feed.sonic-search.com, which acts as the main page for redirecting the search queries elsewhere.
Our malware analysts say that this overly complicated scheme is a rare occurrence, but this fact does not make it less or more unreliable. Malware developers promote each others products because there is plenty of money to be made for all of them. In general, the purpose of a browser hijacker is to redirect web traffic and subject its user to promotional links and advertisements featured among its search results. However, in some cases, the promotions may actually be of malicious nature and promote malware or fake online shopping websites that extort money from unwary users.
It is important to note that in addition to subjecting you to questionable commercial content, Feed.sonic-search.com and its accompanying hijackers have the ability to collect information about you that typically includes browsing and search history to determine the users browsing habits, interests, and so on; IP address and in geographical location to determine the demographics, and so on. This information is used to tailor the ads, make them more relevant and make more money as a result.
Given that Feed.sonic-search.com is set to hijack your browser's homepage/new tab page and search provider to redirect the search queries to the other hijackers that it comes with we regard it as malicious and recommend that you remove it using the instructions we have provided below. Since Search.SafeFinder.com comes with a malicious installer that features adware, we advise that you check your computer for additional unwanted software and uninstall it if found. We suggest using our featured free scanner SpyHunter to do the detecting for you.
Uninstall the browser using Control Panel
Windows XP
Open the Start menu.
Click Control Panel.
Select Add or Remove Programs.
Find the malicious app.
Click Remove.
Windows 7 & Vista
Open the Start menu.
Select Control Panel and click Uninstall a program.
Find the application.
Click Uninstall.
Windows 8 & 8.1
Open the Charm bar.
Click Settings and select Control Panel.
Open Uninstall a program.
Find the undesirable software.
Click the Uninstall button.
Windows 10
Right-click on the Start menu.
Select Programs and Features.
Find the malware and right-click on it.
Click the Uninstall button.
Remove the browser add-on
Google Chrome
Press Alt+F.
Go to More tools and click Extensions.
Find the extension and click the Remove button.
Microsoft Internet Explorer
Press Alt+T.
Select Manage add-ons.
Click Toolbars and extensions.
Find the add-on and click Remove.
Mozilla Firefox
Press Ctrl+Shift+A.
Select Extensions.
Find the add-on and click Remove.
In non-techie terms:
Feed.sonic-search.com is a malicious search engine that our researchers have classified as a browser hijacker because its purpose is to hijack your browser's homepage and search provider to subject you to commercial promotions and ads. However, the promoted content may be unreliable as it comes from unknown sources, so do not hesitate to delete this hijacker if you want to get your old search engine back.