Do you know what FEDPOL BundesKriminalPolizei Virus is?
FEDPOL BundesKriminalPolizei Virus is a clandestine ransomware which is often recognized as the ICSPA Virus or the Interpol Virus. The names indicate the organizations and departments whose credentials (names and logos) are attached to the misleading screen-locking notification. The blocked access to the desktop is the main symptom of the entire ransomware, and so you need to be extra cautious what information you trust or dismiss. It is unlikely that reputable organizations would block access to the computer and order you to pay fines via Paysafecard and other unreliable money transfer systems. Therefore, if you have noticed such activity – ignore the presented demands and remove FEDPOL BundesKriminalPolizei Virus without further delay.
Unfortunately, not all Windows users realize that the malicious ransomware should be deleted, primarily because of all the illegally attached credentials and the intimidating information. It is declared that your PC has been used for illegal activity, like malware or child pornography distribution. Additionally to these ridiculous statements, it is stated that a criminal case could be filed against you if you tried to remove the lock-down or did not pay the requested fine within the next 48 hours:
Die Größe der feinen beträgt CHF 150 Franken. Sie können mit Hilfe PaySafeCard zahlen.
The element of urgency has helped schemers to accumulate immense profits, which is why cyber crooks continuously come up with such threats as Computer Incident Response Center Luxembourg Virus, New Zealand E-Crime Lab Virus, CIBS Pol Virus, Confédération Suisse Virus, etc. All of these infections have different interfaces and are represented in specific languages; however, they all should be removed without waiting another moment. Without a doubt, you firstly need to worry about FEDPOL BundesKriminalPolizei Virus removal.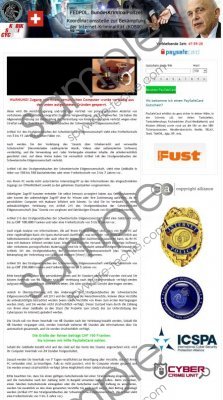 FEDPOL BundesKriminalPolizei Virus screenshot
Scroll down for full removal instructions
It is not so simple to have ransomware infections deleted. This is because a screen-locking alert, which schemers use to trick out your money, is just a facade of a much more clandestine and vicious infection. It appears that schemers utilize Flimrans, Urausy and other well-known ransomware Trojans in order to corrupt your personal system. Needless to say, a malignant Trojan which is potentially running with the help of rootkit files is an extremely complicated threat. This is why we strongly recommend installing automatic spyware removal tools to have FEDPOL BundesKriminalPolizei Virus deleted.
Delete the infection from Windows
Delete from Windows 8:
In the Metro UI start screen move the cursor to the bottom right corner to open the Charm Bar.
Click Settings -> Change PC Settings -> General.
Scroll down to Advanced Startup and click Start Now.
Now click Troubleshoot -> Advanced Options -> Startup Settings -> Restart.
From the appeared menu select F5 to reboot in Safe Mode with Networking.
Once the PC boots up launch a browser and go to http://www.spyware-techie.com/download-sph .
Download the automatic spyware detection and removal tool SpyHunter.
Install the application to delete Windows infections.
Delete from Windows Vista and Windows 7:
Restart the PC.
As soon as BIOS loads up – start tapping F8.
Using arrow keys select Safe Mode with Networking.
Tap Enter.
Launch a browser and download SpyHunter.
Install the tool, perform a system scan and remove running malware.
Delete from Windows XP:
Firstly repeat steps 1-4 from the previous removal instructions.
Click Yes on the appeared Desktop alert.
Download SpyHunter.
Open the Start menu.
Launch RUN, enter msconfig and click OK.
Click the Startup tab in the System Configuration Utility.
Select Disable All and click OK.
Restart the computer and install the downloaded spyware remover.
In non-techie terms:
The clandestine FEDPOL BundesKriminalPolizei Virus requires immediate removal because the infection will not allow you to run the system and will continuously endanger your virtual security. Ignore the fine and the bogus information presented by the ransomware, and install authentic security tools which will delete it automatically.
Aliases: FEDPOL Bundes Kriminal Polizei Virus.