Do you know what Featured Deals are?
If you find some pop-up advertisements or coupons labeled Featured Deals, it means that your computer contains some adware program. The label Featured Deals does not mean anything; it does not refer to any specific program because this phrase is used by several advertising-supported programs. It has been discovered that the label Featured Deals is used by programs based on the Vitruvian browser add-on creation engine, and some of the programs are SearchSnacks and HighLightly. In some cases, Featured Deals pop-ups may appear after installing programs related to the Multi-plug engine, such as GoSave, PriceChop, and some other similar programs.
It is advisable to ignore those pop-ups featuring the label Featured Deals because the ads may take you to unreliable websites. The developers of adware program do not endorse their sponsors; they do not accept responsibility for their activities, which means that the user could be provided with inappropriate content at any time. If you click on one of the Featured Deals, be careful when you are taken to an unknown website. It is worth reviewing its privacy terms or even doing some research on the reputation of the website to make sure that you can safely browse that website.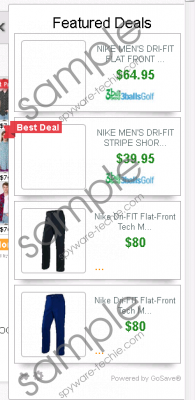 Featured Deals screenshot
Scroll down for full removal instructions
The adware program displaying Featured Deals pop-ups is likely to be monitoring your online behavior. For example, the program may be recording your search terms, clicks, impressions, and some other information that can be obtained from your browsers. Advertising-supported browser add-ons collect information so that the developers of the program can enhance the quality of the service and enhance the user's experience. Most programs aimed at providing you with the best online deals collect anonymous information and do not seek to reveal your identity, but you should be aware of the fact that some of the details collected may help the developers of the program identify the user.
If you want to get rid of the program displaying Featured Deals coupons, you have two options. Below you will find our instructions that should help you find the uninstaller of the program, but bear in mind that not all programs have their uninstaller. We recommend that you implement SpyHunter because this real-time security program is capable of eliminating Vitruvian-based and Multi-plug-based browser add-ons and many other malicious programs.
How to get rid of Featured Deals
Windows Vista and Windows 7
Click Start.
Select Control Panel.
Click Add or Remove Programs.
Uninstall the program displaying Featured Deals.
Windows XP
Open the Start menu.
Click Control Panel.
Select Add or Remove Programs.
Uninstall the adware program.
Windows 8
Press the Windows key to access the Start screen.
Start typing control panel.
Click the Control Panel icon.
Select Uninstall a program and remove the adware program.
In non-techie terms:
Due to the fact that there are multiple adware programs displaying Featured Deals pop-ups, it is worth scanning the computer to make sure that the program is eliminated from the PC. Our advice is to use a reputable scanner, and you can install one using the below-given installation instructions. In case you have any other questions, feel free to leave a comment.