Do you know what Fdownloader is?
Our research team has recently come across, an application called Fdownloader which is suspicious and questionable to say the least. Due to such way of functioning and questionable way of distribution we have categorized this tool as a potentially unwanted program. It is important to note that even though on its official website you might come across statements claiming that this program is a great download manager that should help you control download procedures in an efficient way, you must know that, in reality, this application does not function in the best way it should. We firmly advise you to use a different tool for download management since Fdownloader cannot be trusted entirely. Make sure to read the rest of this article and find out how exactly this potentially unwanted program works and why it should be removed as soon as possible.
Once Fdownloader enters your PC it could seem like a great application. After a further investigation, it has been found out that there are a few questionable features that this third-party download manager exhibits. Firstly it is known that it might provide you with various third-party links leading to questionable web content since vendors' of this tool do not review the activity of their third-party associates. This means that by clicking on some seemingly harmless link that this tool might provide you with, you risk of being redirected to suspicious or even potentially malicious website; thus, possibly exposing your PC to intrusive third-party web content. It is a risk that no user should face since it can easily have devastating outcomes. Also, we have discovered that as soon as this application enters your PC information about your web browsing habits and will most likely share or sell this information to their third-party associates. Such questionable functionality is the reason we highly advise every user to delete Fdownloader immediately.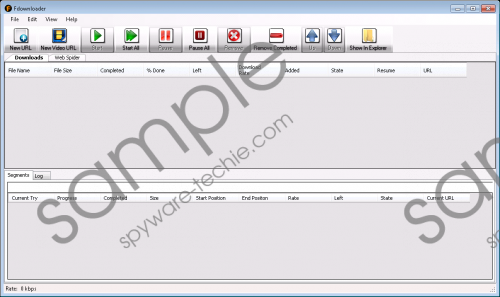 Fdownloader screenshot
Scroll down for full removal instructions
If you wish to reduce the risk of getting your PC infected with Fdownloader or any other questionable program, you must take a few preventative steps. Firstly, make sure to download your software from official vendors' websites only since such sites do not provide bundled installers, which are infamous for being used by malware distributors to spread their suspicious software. Make sure to pay your utmost attention while installing any program because you might be provided with an opportunity to cancel the installation of some unwanted third-party program. Last, but not least make sure implement a reliable antimalware tool if you do not have such a tool already because it is your best bet to keep your PC safe and secure at all times.
The removal procedure of Fdownloader is a rather simple one since you can delete it via Control Panel. It is important not to skip any steps while execution the removal processes since a single mistake could mean that the dubious program was not removed entirely. You do not want to find yourself in such a situation because even a few leftover files or registry entries associated with Fdownloader could be used as a security breach by other suspicious programs to enter you computer in a quick and easy way. Make sure to avoid such instance by checking your PC for potential leftovers as soon as the manual removal has been executed.
How to remove Fdownloader from your PC
Windows Vista and Windows 7
Tap the Windows key on your keyboard.
Select Control Panel and click Uninstall a program.
Select Fdownloader and click Uninstall.
Windows XP
Click Start and then select Control Panel.
Click Add or Remove Programs.
Uninstall the unwanted application.
Windows 8
Move the mouse pointer to the lower-left corner of the screen.
Right-click and select Control Panel.
Click Uninstall a program.
Right-click Fdownloader.
Click the Uninstall option.
In non-techie terms:
If you find manual removal of Fdownloader too complicated make sure to follow the instructions that we provide below. The alternative removal guide below will allow you to delete this potentially unwanted program in an automatic way.