Do you know what FBI Cybercrime Division Virus is?
Once the operating Windows system is infected with FBI Cybercrime Division Virus, access to the PC is blocked, administrative privileges are removed and bogus accusations are presented. The malicious ransomware has been developed for one purpose – to trick you into paying fines for crimes you have not committed. Unfortunately, cyber criminals who have created the threat know how to trick you into giving up your savings. It has been discovered that for malicious purposes, schemers imitate the FBI and convince you to use MoneyPak in order to pay fines for various bogus crimes. Having FBI Cybercrime Division Virus removed is the only solution if you want to have your Windows system running normally. Do you have no clue how to delete the threat without disturbing the PC further? Continue reading to find out.
Have you heard of Trojan.Urausy? Well, this is the infection which runs on your computer and which controls the vicious ransomware. The clandestine threat travels via spam email attachments, social engineering scams or other security backdoors and may have entered your computer without any of your knowledge or authorization. Once the ransomware is activated, access to the desktop is removed and you are presented with a highly intimidating alert supposedly sent by the FBI:
ATTENTION! Your PC is blocked to at least one of the reasons specified below. You have been violating <> (Video, Music, Software) and illegally using or distributing copyrighted content, thus infringing Article 1, Section 2, Clause 8, also known as the Copyright of the Criminal Code of United States of America.
The fictitious notification informs that in order to regain control over the computer you need to pay a fine of $300 within the next 72 hours. This demand is completely bogus and should be disregarded without any hesitations. What you should do is delete FBI Cybercrime Division Virus, and you can perform this with the assistance of automatic spyware removal tool SpyHunter. But how can you install the application if the PC is locked? Follow the instructions posted below to unlock the PC and delete the threat in no time.
How to remove FBI Cybercrime Division Virus from Windows Vista/7?
Restart the computer.
Wait for BIOS to load and then start tapping the F8 key.
Use arrow keys to navigate to Safe Mode with Networking.
Tap the Enter key to select the option.
Go to http://www.spyware-techie.com/download-sph and download SpyHunter.
Install the automatic malware removal tool and delete all running infections.
How to remove FBI Cybercrime Division Virus from Windows XP?
Restart the computer using steps 1-4 from the instructions above.
Click Yes on the "Windows is running in safe mode" alert.
Download the automatic malware removal tool SpyHunter.
Click on Start, launch RUN, enter "msconfig" and click OK.
Click on the Startup tab in the System Configuration Utility.
Un-check all startup items and then click OK.
Restart your computer again; however, this time do it normally.
Immediately install the downloaded malware removal application.
In non-techie terms: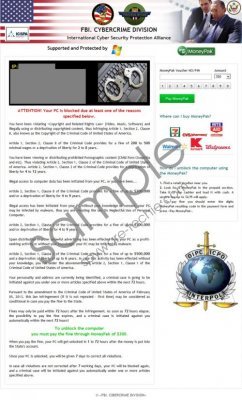 FBI Cybercrime Division Virus screenshot
Scroll down for full removal instructions
If you care about virtual security, you do not want the computer infected with more malware and you wish to run Windows normally – delete FBI Cybercrime Division Virus. Manual removal task is exceptionally complicated and, therefore, is suitable to experienced Windows users only. If your removal experience and skills are scarce – use the instructions provided above to install automatic removal tools.
Aliases: FBI Cybercrime Virus.