Do you know what Fasttoaccess.com is?
Fasttoaccess.com looks like a normal search engine, and the "Google" logo represented on its home page might make you think that it is reliable and useful. The good news is that the easy-access links displayed on the home page are legitimate, and you are in no danger interacting with them. These links include facebook.com, gmail.com, youtube.com, booking.com, etc. Unfortunately, that is where the benefits end. If you interact with the suspicious search tool outside of these easy-access links, you could find yourself in risky situations. Clearly, we recommend removing Fasttoaccess.com from your browsers, but you do not need to trust our recommendation without any proof. If you continue reading, you will learn exactly why this search tool is identified as a browser hijacker and what kinds of risks it might bring upon you. Most important, we show how to delete this hijacker.
Our research team classifies Fasttoaccess.com as a browser hijacker because this threat could take over your browsers, especially if you live in the United States of America. Were your browsers hijacked without your permission? If they were, what are you waiting for? You must realize that this threat requires immediate removal. Of course, some users might be pushed into installing this unreliable search tool themselves. Whether the hijacker has corrupted the browsers illegally or you let it in yourself, it is very likely that other threats have used the same backdoor to slither in. In most cases, threats like this hijacker are spread via software bundles that can be crawling with all kinds of threats. Sure, harmless bundles exist as well, but it is unlikely to be the case with Fasttoaccess.com. On the contrary, if you install a malware scanner, it is likely to discover a bunch of other infections that require removal.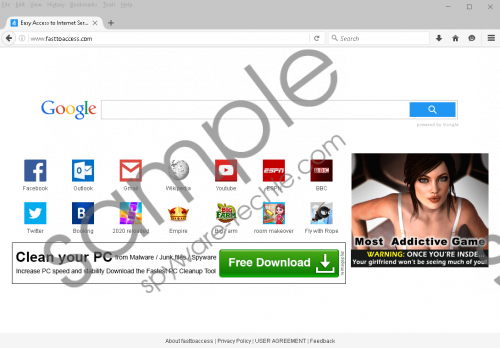 Fasttoaccess.com screenshot
Scroll down for full removal instructions
According to our research, the suspicious Fasttoaccess.com has a very similar webpage template to those of Hao123 Search and Yandex search tools. The interface has a ton of quick-access links – which we have discussed already – but it is also flooded with banner advertisements that might promote completely useless and unreliable services. Whatever you do, do not install programs and do not trust services that are introduced to you via the browser hijacker. If you are not cautious, you might suffer virtual identity theft, you could become a victim of malicious scams, and you could get your computer infected with malware! Using the search tool is not recommended either. Although the logo of Google is attached to the search dialog box, the results can be modified; meaning that they could include the links that the creator of Fasttoaccess.com wants you to click on. These could include malicious links as well.
You can erase Fasttoaccess.com from your operating system in several different ways. For example, you can reset your browsers, which simultaneously eliminates the hijacker and the cookies it might have employed to spy on you. Of course, if you decide to reset your browsers, you probably will need to modify homepage and search provider tools, which might be difficult if you do not know how to do that. Let us know if you need assistance via the comments section below. You can also employ automated malware detection and removal software, and we strongly recommend this option if other infections have found their way into your operating system. Sure, you could eliminate them manually as well, but a reliable anti-malware tool will also ensure full-time protection after erasing all threats, and that is crucial.
Remove Fasttoaccess.com
Mozilla Firefox
Launch the browser.
Tap Alt+H keys on the keyboard.
Select Troubleshooting Information.
Click Refresh Firefox.
Click Refresh Firefox again.
Restart the browser.
Google Chrome
Launch the browser.
Tap Alt+F keys on the keyboard.
Select Settings.
Click Show advanced settings.
Click Reset settings.
Click Reset.
Restart the browser.
Internet Explorer
Launch the browser.
Tap Alt+T keys on the keyboard.
Select Internet options.
Click the Advanced tab.
Click Reset.
Select Delete personal settings.
Click Reset again.
Restart the browser.
In non-techie terms:
If your first impression of Fasttoaccess.com was that it is a great search tool, you have been mistaken. This is a browser hijacker, and the only thing you need to do regarding it is to delete it. The removal guide below explains how to erase this hijacker from your browsers manually, but you must also consider using automated malware removal software. We suggest employing anti-malware software because it can get rid of all threats that are present on your PC, as well as ensure full-time protection. Obviously, full-time protection is imperative if you want to prevent malicious threats from attacking in the future.