Do you know what FastSearch is?
FastSearch is a completely worthless application that might expose you to potentially dangerous third-party website contents via advertisements and links it presents you with. If this ad-supported program is on your computer, there is a good chance that it has entered without your knowledge. It is also possible that it was not alone when it came, so there may be more threats to worry about. We always advise users not to keep adware on their systems due to the potential risks the displayed ads and links may hold. Not knowing how this adware acts and how it may endanger your system's security could result in more infections and even a breach of your privacy. Before going into details, we can tell you this in advance: If you want to keep your computer safe, you had better remove FastSearch right now.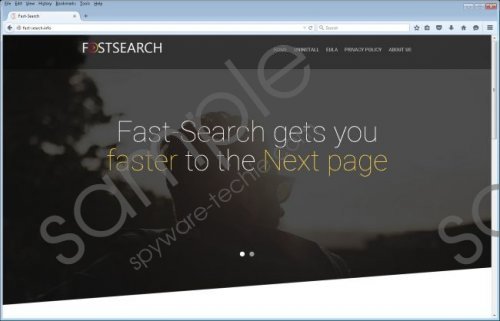 FastSearch screenshot
Scroll down for full removal instructions
Like many other adware programs, FastSearch also has an official-looking website, fast-search.info, where you can find some bits of information with regard to what this app is supposed to do and why it would be useful for you to have. The only suspicious thing about it is that you cannot download the allegedly helpful application; there is not one download button or link anywhere on the site. Since this adware makes money for its creators through the number of clicks on the ads and links it sends to unsuspecting users' screens, you can imagine that they need to make sure that FastSearch spreads widely. That is why it is mostly distributed in freeware bundles. However, an innocent-looking software package may hide some nasty infections, too. Therefore, you need to make sure that after deleting FastSearch, you also check your system for the presence of other possible threats. You can accomplish that by using a trustworthy free online scanner.
This adware is somewhat different from most adware programs in that it mainly focuses on altering Google search results. FastSearch simply injects its third-party ads into the results pages, and that is how it introduces you to potentially harmful third-party contents. Keep in mind that it is never safe to click on any third-party ads or links because you cannot be sure that you will end up on a reliable, legitimate website. In order to save your computer from more malware programs or yourself from letting your bank account be drained by criminals, we recommend removing FastSearch as fast as you can.
You always have two options when it comes to malware removal. You can either go for the more tedious manual method or the more comfortable automated version. In the case of FastSearch, however, it is not too complicated to tackle this threat manually. If you follow our instructions below, you should get rid of it within a minute. But you should remember that it may not be the end of the story; there could be more infections actively damaging your operating system right now, downloading more malware apps in the background, sending vital information about you to remote servers and who knows what else might be going on without your knowledge. That is why we recommend using a reputable antimalware program that can protect your computer from any known threat. You need to decide for yourself how important it is for you to know that you are safe in the realm of virtual reality.
Remove FastSearch from Windows
Windows 8 and Windows 8.1
Press Win+R and enter control panel in the box. Click OK.
Access Uninstall a program.
Uninstall the unwanted program.
Windows 7 and Windows Vista
Access the Start menu and select Control Panel.
Select Uninstall a program.
Uninstall the unwanted program.
Windows XP
Open the Start menu and go to Control Panel.
Select Add or Remove Programs.
Remove the undesirable program.
In non-techie terms:
FastSearch is a useless program that has been labeled as adware. Interestingly, it does not distract you with pop-up ads, like most other adware applications, but it alters Google search results to display its own third-party ads and links instead of the original ones. These may hold great risks, as you might be redirected to dangerous websites maintained by schemers. We strongly recommend that you remove FastSearch ASAP. Since there may be other infections on your computer associated with this adware, the best would be to install a trustworthy malware removal tool to automatically take care of all your security issues.